The spinning world is truly competitive, and Peloton was not even among the first to tap the market. Nevertheless, it is no doubt that Peloton has still grown to become an indoor workout cult.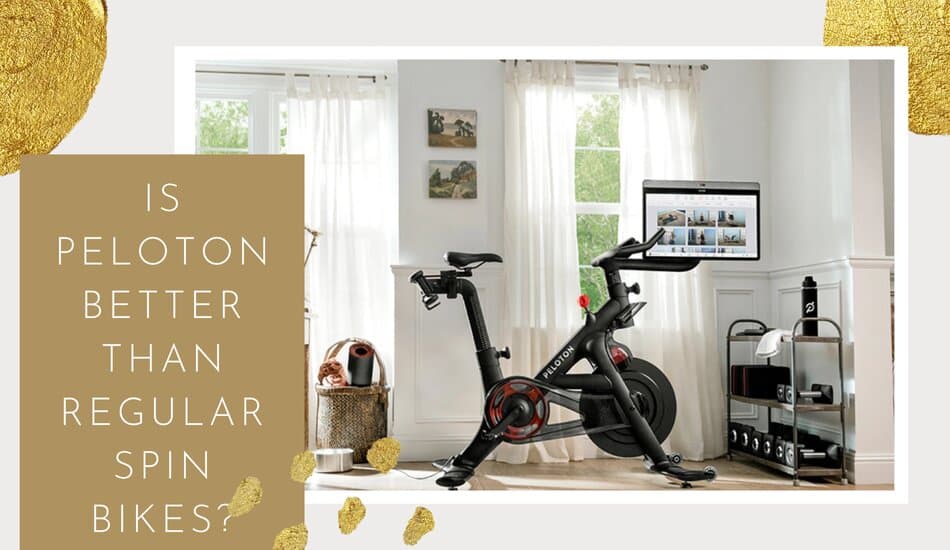 Its top professional instructors are still rated highest, while the classes have attracted millions of users already. Then there is the need to own the prestigious black and red spin bike, which is sturdy, quality, and with more attractive features than most spin bikes.
Let's dig into this and much more on why people will consider the expensive piece, despite the availability of competitive choices;
Is Peloton Better Than Regular Spin Bikes?
Yes, it is. Peloton may have its price downside, but this is a minimal cost to pay for what you get in return. And if you look at it critically, you will realize that Peloton is not that expensive in the long run. Really?
Peloton is Cheap in the Long Run
We have the notion that Peloton is expensive because, in addition to the expensive equipment, you have to pay for monthly subscriptions. However, Peloton is only costly to purchase. Actually, today you have the option to purchase the original peloton bike at a cost lower or similar to value spin bikes. It comes at only $1445, and a payment plan costs $44 per month for 39 months.
When it comes to the $44 monthly subscriptions, this is a cheap option. With the subscription, you get unlimited access to Peloton live and recorded classes. And that's not all, and you can have more than one account on the bike or tread, which means that a single piece of equipment and subscription serves the whole family.
In comparison, if you had to take regular spin bikes in studios that offer live classes, you would have to pay a minimum of $20 per class. So within two classes, you will have spent more than a single Peloton subscription for a month.
If you had a regular spin bike at home without the high Peloton subscription, you have the option of using the Peloton digital app. It is cheaper, at $12.99, but it does not feature scenic rides or the Leaderboard, which make Peloton more outstanding.
Other than the cost, here are other luring features why you would consider a Peloton over other spin bikes;
1. Live Classes
Essentially, other home spin bikes do not have live classes. Even the currently competitive MYX II only feature recorded classes at $29 per month. Therefore, you have to deal with recorded workouts, which don't feel as lively and interactive as the live classes.
Live classes have a feeling of a studio, which compares Peloton only to studio spinning classes. You can question your instructor, and you can request a private chat to confirm your workouts.
2. Large HD Screen
Most regular spin bikes have small LED screens, which only record the workout metrics. Others are more advanced, but the screen is smaller than the Peloton screen. Then there are those whose screens are only compatible with their company heart rate monitors and gadgets.
However, Peloton has a large screen guarantee, with 21.5 inches and 23.5 inches for the bike and bike plus, respectively. Furthermore, the screens are Bluetooth and ANT + compatible, hence versatile connections.
The Peloton bike plus screen also rotates 360 degrees, allowing for off-bike workouts that are becoming more popular with spin bikes.
3. Workout Results are Better
Live classes are more difficult to skip because if you do, you feel that you missed out. You feel like it is a fixed timetable that you need to stick to.
Remember that Peloton has a Leaderboard, where you compete with other riders. If you occasionally skip classes, you will drag behind on the Leaderboard. And who wants that? Actually, the Leaderboard has a way of motivating users. You always feel that you want to do better during the following workout. As you aspire to do better, you look forward to the next class, hence rarely miss.
Do you know what this translates to? You will reach your workout goals faster. You don't need discipline, just motivation, and Peloton takes you through toning and weight loss with ease.
4. Peloton has Flexibility
With Peloton, you choose classes that fit into your schedule. For instance, if you have a night shift, you can consider fixing your evening or morning workout. On the other hand, if you are busy almost all through, you can always fix the classes in between your schedule during one of your breaks.
Peloton is also compatible with spin trays, where you can put your tablet or laptop. So you will work, answer calls and even send and read emails while still spinning. The best part is that you have on-demand classes, where you don't have to participate in the Leaderboard.
However, studio spin bikes have a set schedule. So you either have to fit in or miss the classes. On the other hand, not all spin bikes are compatible with the spin trays in the market. With Peloton's popularity, there are spin trays built specifically for the bikes.
5. An Interactive Community
Peloton has an interactive global community, missing with other spin bikes. For example, on the Leaderboard, you get high-fives when you get to a new level of improvement. This alone will make your day better.
You can share your progress, worries, and challenges on social platforms such as Facebook and Peloton Interactive. Other riders are so understanding and helpful in getting you through a situation. They feel like friends you may not have in real life.
The community also helps boost your emotional and mental health. This is because they only know you as a rider, hence will not judge you. Therefore, you can be your best with them, getting rid of any negativities.
6. Peloton Bike has Proven quality
With so many people already praising the bike and even going for a second, it is evident that it offers customer satisfaction. The frame is sturdy, stable quality steel, while the design is exactly what you would call comfortable for a spin bike.
So, why would you gamble with other bikes whose functionality and durability you don't know?
Other than that, Peloton customer service is top-notch, tending to complaints and quickly handling them. I mean, what more would a customer want than satisfying service even after buying a piece of equipment?
7. Everyone Wants to be Part of the Cult!
Though a reason mostly overlooked, Peloton is great because it has a lot of people. If you have gone to their page and seen how interesting every contribution is, you will also want to be part of it.
Therefore, Peloton is better than regular spin bikes because it has more people. Consequently, you have more options of motivation and help in case you need one.
Also, it is a Peloton! You feel classy with the piece of equipment in your house. It is just fulfilling, hence a reason you will want to replace your regular spin bike.
8. You Can Use Both Unlimited and Digital Subscriptions
If you have a regular spin bike, you can still access peloton workouts via the digital app, right? However, that is as far as you go. It is excellent, but you will not have the app's Leaderboard or metrics reading on Peloton.
However, if you have the bike, you have the option to use the unlimited subscription for better peloton experiences. And when your budget is low, you can always go for the app as a solution.
Bottom Line
Peloton vs. a regular spin bike? Peloton still takes the trophy, with numerous benefits that other spin bikes do not match up to. It has all you want in a spin bike in one package, from the live classes to unlimited interactions and long-term benefits.
Read Also: