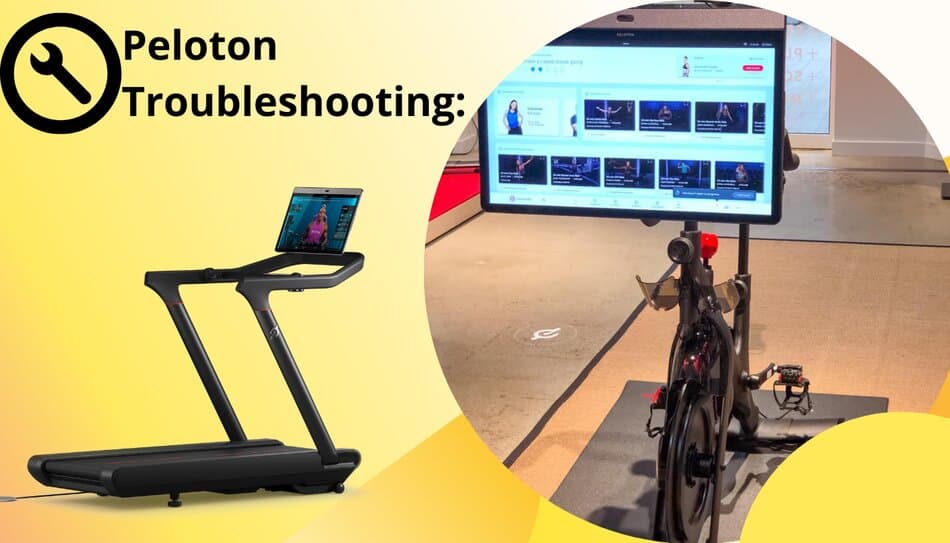 It is pretty confusing when you suddenly come across a problem with your Peloton bike or tread unexpectedly. It is even worse when you have never heard of the issue or when all you see is negativity revolving around the challenge on social platforms.
True, all Peloton users have to deal with a problem that requires troubleshooting. On the positive side, if you already read through the DIY on how to solve the problem, it is never frustrating. For this reason, we will go through the common Peloton problems and their solutions;
1. The Peloton Bike/ Tread Won't Turn On
If you find yourself in a situation where the Peloton equipment will not turn on, check on your power supply. You probably ran out of power unknowingly. Other times your cable plugin is loose, and you will have to replug to ensure that the bike or tread can receive sufficient power.
If you correct the above two problems and the equipment still does not power on, check the power supply. You may have power, but it may not be enough to power the Peloton equipment. Remember that the Peloton equipment requires a voltage of between 100v and 240v to function effectively. If your power is below 100v, then it is not sufficient for the equipment. If it is above the range, you probably have to worry about a power surge.
In the event that you have a power surge, you should order a new cable or touchscreen. The best part is that if you are within the warranty period, Peloton will replace the accessories for you.
2. Activation Error
Sometimes you may experience an activation error, which blocks you from accessing much on your touchscreen. The good news is that you still have the option of resetting the touchscreen.
Therefore, factory reset the touchscreen to correct the activation error problem;
Start by selecting 'Shut Down' on the tablet to power it off. Then, hold the volume up button and the power button simultaneously.
This will power the touchscreen, and the Peloton logo will appear, prompting you to release the buttons.
You will see a 'Select Boot Mode' at the bottom left of the screen, and when you press it, you will get options. If your touchscreen is not working, use the volume up and down button to navigate the tablet. In the 'Select Boot Mode' menu, select 'Recovery Mode' and click on it with the volume down button.
Now, you will get the dead Android feature, with the 'No Command' written. Click on the volume up button and the power button simultaneously, which will allow you to get to 'Factory Reset.'
Select 'Wipe All Your User Data/ Factory Reset' and click the power button for a go-ahead using the volume up button. It will bring you options for 'Delete All User Data, and you will click on 'Yes.' Then, select 'Reboot System Now' and restart the tablet.
Once you are through with this process, your tablet should work normally. However, remember that each step may take more than one trial. You will also have to reset the Peloton accounts. However, all the data in your account will remain once you log in since it is stored in the cloud as opposed to the tablet.
3. Peloton Heart Rate Monitor Not Working
Mostly the case, the Peloton heart rate monitor may fail to connect with Peloton equipment. Therefore, it doesn't register metrics on the Peloton tablet.
In this case, you will have to power off your heart rate monitor, then forget it on your tablet. Then, start the process of connecting the heart rate monitor anew. If it still doesn't work, you may need to change your heart rate monitor. You can consider the Apple Watch if you are using bike plus or Scosche Rhythm for any equipment. Other great options are Fitbit and Garmin. These are the least likely to let you down, and their durability is rated high.
Read Also:
4. Peloton Headphones Are Not Working
As with all Bluetooth gadgets, it is common to have a challenge with your Bluetooth headphones when connecting them to your equipment. While the problem could be with the Bluetooth headphones, sometimes the problem could be with your Peloton tablet.
Therefore, start by correcting your headphones to ensure that they are well. Ensure that they are well-charged, then switch them off. Switch them on again, and try reconnecting them to your bike or tread.
If they still don't work, now you can power off your tablet or reboot it. When it's on-again, try reconnecting the headphones.
However, if this fails, you may try another set of Bluetooth devices to see how it connects with your Peloton. If it connects successfully, then the issue is with your headphones. On the other hand, if other Bluetooth devices also fail to connect with the touchscreen, then your tablet needs troubleshooting. Since you already reboot it, try contacting Peloton customer care for help.
Then there are times when you are using wired headphones, but the connection with Peloton still fails. In this case, you need to plug the headphones off the headphone jack, then replug them. This should do the trick if the headphones are still working. If not, plug in the headphones to your phone or another gadget to see if they are working. If they fail, it is time to reconsider a new set.
Find more details:
5. Peloton Metrics Not Showing
I have seen this complaint several times on the Peloton platform. You are in class, and everything seems okay, except that you cannot read your calories burned, distance, heart rate, cadence, and so on in your metrics window.
In this case, troubleshooting calls for a number of checks. First, ensure that you have a stable internet connection, which has a speed of not less than 10MbPS. Then, check that your internet is not jammed for better functioning.
On top of that, remove bugs and clear cache in your tablet to ensure top-notch functioning.
Finally, you can leave the class you are in, then rejoin the class again. As long as the internet connection is fine, the metrics will start reading.
6. I can't Change or Edit My Peloton Profile
If you have a problem accessing, editing, and changing your profile, the problem is either the internet connection or the tablet being jammed. Therefore, check that your internet connection is strong and in good condition. Then, clear the tablet's cache and reboot it for better functioning.
Read more details: How to Change Peloton Username?
7. No Command Error
When you get a dead Android with a No Command error code, you feel like your Peloton day has been ruined. I don't disagree entirely, but let's get past this with a quick solution.
First, reboot your tablet by holding both the power button and the volume up button. Release them when you see the Peloton logo reappearing on the screen.
Then, use the volume up and down buttons to navigate the touchscreen, clear the cache, and factory reset the tablet.
Once you are through, restart the tablet, and you should have it working just like a new tablet would.
Read more details: Peloton Screen Says No Command. How to Fix It?
8. Cancelling Peloton Subscription Offline
When you sell your bike or are in no position to use your subscription for some months, the best option is to cancel the Peloton subscription. It is all easy when you have several online options, but the same is not the case offline.
This is why you need to save the Peloton customer service number so that you can contact them in such instances. You need to call customer care, explain your situation and give them your details. They will cancel your subscription on your behalf.
Read more details: How to Cancel or Pause Peloton Membership
9. My Peloton Bike Produces a Sound
Peloton bike is among the quietest gym equipment you can own. Therefore, if it is producing a sound, there definitely is a problem.
Hence, check that all the bolts on the bike frame, pedals, and other tight parts. You can check each bolt on the bike without a hurry, tightening each. Then, check that the bike seat is level and tightened as well.
Finally, check your pedals, and ensure that there is no loose bolt. Remember that pedal tightening is necessary at least monthly because pedals are most worked on during biking.
Last but not least, check and tighten your cleats. Actually, in most cases, the noise from the bike is a result of loose cleats. The worst part is that the loose cleats could also cause you to be stuck in your clipless pedals. Hence, troubleshooting the problem will save you from a subsequent problem.
Read Also: How Do I Fix a Clicking Noise on My Peloton Bike?
Parting Shot
Peloton troubleshooting gives you a foresight on how to handle common Peloton challenges. Whether you are using the bike or the tread, you may experience at least one of these challenges at one time. And nothing is as awesome as having a solution at your fingertips when this time comes.
So, do you have other challenges with your Peloton bike or tread? Give us your experience, and we will look into the matter.
You May Also read: