Is Peloton good for beginners? Yes, Peloton is definitely among the best workout options for beginners. Better still, Peloton is not just about the bike and indoor cycling. There is so much that a beginner and anyone else will enjoy on the platform.
What is Peloton anyway? Basically, Peloton is a workout platform that primarily offers indoor workout training. Other than spinning, there are tread workouts and strength, yoga, meditation, cardio without workouts, and outdoor classes.
There are both live and on-demand classes on Peloton. The on-demand library presents thousands of classes that you can look into for your training. On the other hand, the live classes present the warmth of a real-time community that makes Peloton so popular.
Do You Have to Buy Everything From Peloton?
Not exactly.
Peloton as a company sells Peloton bikes and treadmills and any accessories you may need in a Peloton class. Therefore, you can actually get everything you need in a Peloton class from Peloton.
However, you can actually use other brand equipment and accessories and use them with Peloton. For instance, if you already have a Peloton bike or treadmill, you can go for other heart rate monitors that may be cheaper or more convenient. The Peloton equipment is compatible with Bluetooth and Ant+ gadgets, hence non-discriminatory of the brand.
More surprisingly, you don't even have to go for a Peloton bike or treadmill to cycle or run on the Peloton program. Peloton has a digital app, the Peloton digital app, which is designed for Peloton users without a piece of Peloton equipment. Therefore, if you already have your regular spin bike or treadmill and are content, you can subscribe to the Peloton digital app.
Take Advantage of the Free Trial!
Peloton is indeed popular, and if I speak for myself, I would say that it is the best workout plan I have. However, we are all different, and you may not actually like it as much as others, including me, do. For this reason, it would be better to take advantage of the free trial.
The free Peloton trial is available for digital app users, and this means you don't need a Peloton bike or tread to try it out. Before buying any Peloton equipment, you should first download the Peloton app, then log in and use the free trial.
Use the workouts on the app more often, at least four days a week, to optimize the opportunity. If you love it and would want more, you can go beyond the free trial and pay for the digital app. In the process, you can place your Peloton bike or treadmill order to maximize your experience. If you already have an exercise bike, you can use this DIY to turn the regular fitness bike into a Peloton.
Take as Many Classes as You Can!
When I first started on Peloton, I thought that all the cardio classes required either a bike or a treadmill, save for the outdoor option. And this is the one mistake we all make, having assumptions about the platform.
It is helpful to venture into every category available on Peloton, including categories you think are a no-go-zone for you. Then, click on an on-demand class and see what is in store for you. Luckily, there is no limit to the number of classes you can have in a day.
You may have a fitness bike, including Peloton, but occasionally you will need free cardio that targets other parts of your body. For example, you may take Peloton strength classes when not on your treadmill or bike, but you could take a Bootcamp class occasionally for a complete workout impact.
In this regard, you should also not have a favorite instructor. Well, hard thing to ask. However, as long as you are still a beginner, try out all the instructors before picking on a favorite. Peloton instructors have different personalities that will build you differently in a class. Therefore, you never know what you could be missing from an instructor until you give them a chance.
Peloton has Programs and Challenges
Interestingly, Peloton has programs and challenges that aim at helping you hit your workout targets. As a beginner, you don't have to scour through the on-demand classes to get the classes that would combine to fit your workout goals. The programs could do this for you.
The challenges give you a timeline and the number of workouts, miles, or accomplishments you should have by then. Joining a challenge gets your lazy self out of bed because you need to fulfill your end of the bargain.
Use Filters to Get to Exact Classes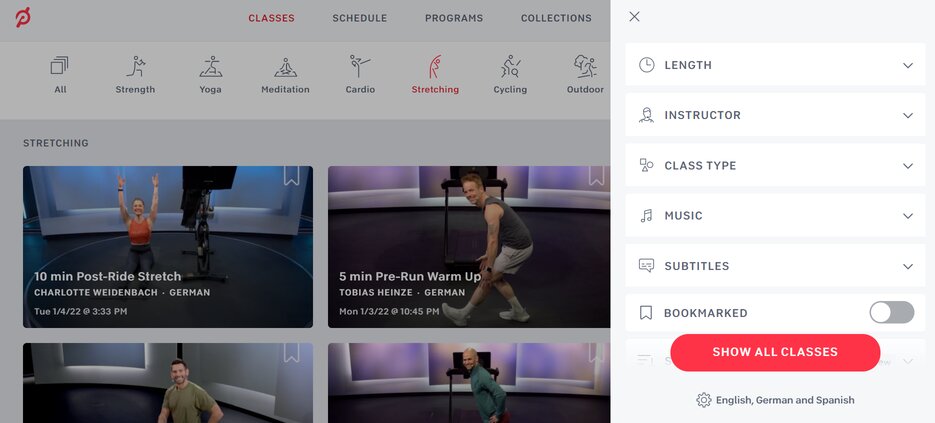 The on-demand list of classes on Peloton is so extensive I would be surprised if you got through it all. And, sometimes, the class you look for may be hidden from you.
The good news is that Peloton has filters, which you can use to lessen the list. For example, you can filter the list by instructor, subtitle, difficulty level, music, and class type. Using all these filters, you will be surprised to end up with approximately ten classes.
Live Classes are Scheduled in Advance
Amazingly, live classes are already in the Peloton schedule for classes that will take place for up to two weeks. You can also join the classes in advance by clicking on 'Count Me In,' then setting a class reminder.
Therefore, though you cannot stack the live classes, you can choose the classes you want to join, then set your schedule. Choosing the live classes in advance further allows you to prepare for the class and join the class on time. Hence, you are able to reap the full benefits of the class.
Stack Classes
Everyone has a time when your schedule is too busy for classes; you have to scroll for minutes. To solve this, Peloton has a stacking feature, where you put together all the on-demand classes you will take for a whole week, sometimes more. You have the option to stack up to ten classes, and the classes move from the stack immediately after you take them.
Related: How to Stack Classes on Peloton [The Ultimate Guide]
Join Peloton Community Platforms
Peloton's greatest strength is in its community. And, you are also probably drawn to the platform by the amazing things you see or hear about the Peloton community.
Join the Peloton Facebook page, the Peloton community on Reddit, and others you will come across. The platforms are great at helping you adapt to Peloton, answer questions you may have, and even help encourage you.
The groups celebrate with you, challenge you, and get you moving with your bike, treadmill, or digital app in ways you wouldn't have managed on your own.
Given that Peloton is a huge fan of interactions, it comes with multiple interactive features that you can utilize.
If you have the Peloton bike or treadmill, you can video chat with friends or users who have the equipment. Learn how to use the Peloton camera—chatting as you ride you the feeling that you are in the same workout with a friend or a relative, even when you are continents away from each other.
Then there are hashtags, which identify Peloton users with the same interests. You can choose a hashtag on the available options or create your hashtag. You can ride or run with people with whom you have the same hashtag and probably get a discussion about the topic going.
Peloton Has Classes in Foreign Languages as Well
True, Peloton classes are primarily in English. However, the classes are also available in German and Spanish languages. Good for you, the classes in foreign languages always indicate so, quickly catching the users' interest.
You can filter the classes by subtitles for language options in the on-demand classes. However, you will just have to scroll through the scheduled classes to see which foreign language classes are available with the live classes.
Be Persistent
Most importantly, if you want your time and cost on Peloton to be worth it, have a disciplined schedule. Fundamentally, plan for workouts and stick by your plan, at least to the best of your ability. Getting on the bike today than two weeks later may not have that impact you dreamt of. However, toning muscles, shedding weight, having a fit body are products of persistent training.
You Can Get a Used Peloton Bike
The Peloton bike is cost-intensive, but you can reduce the cost if you got a used Peloton bike option. And, yes, used Peloton bike options are available.
A used Peloton bike is cheaper, and now that the standard Peloton bike is $1400, you could get the used option at less than $1000 bucks. Check here for tips on buying a used Peloton bike.
Adjust Your Bike and Accessorize it for Better Experience
This may sound cliche, but you can't leave it out; adjust your bike to suit you. Basically, the Peloton bike has adjustable handlebars and seats, which is great for the different height options that the bike accommodates. Then, ensure that all the nuts on the bike are tightened, including the pedals.
Finally, get accessories that will make your riding experience better. These include a heart rate monitor, headphones, a fan, and a laptop spin tray.
Parting Shot
Peloton has a lot to gain from the fantastic instructors and the interactive community from the workouts. You also get all-around workouts, which aid bring in the wholesome fitness we all want. So, ready for the fascinating at-home workout experience? Let's get on to it!
Related: