I find it challenging scrolling down the Peloton Leaderboard and getting several 50's, 60's, 70's and even 80's under Leaderboard names. It only tells me that I am in the same class as seniors, and some are actually at the top of the Leaderboard. But, most importantly, it gives me the motivation that I am not about to stop working out due to my progressive age.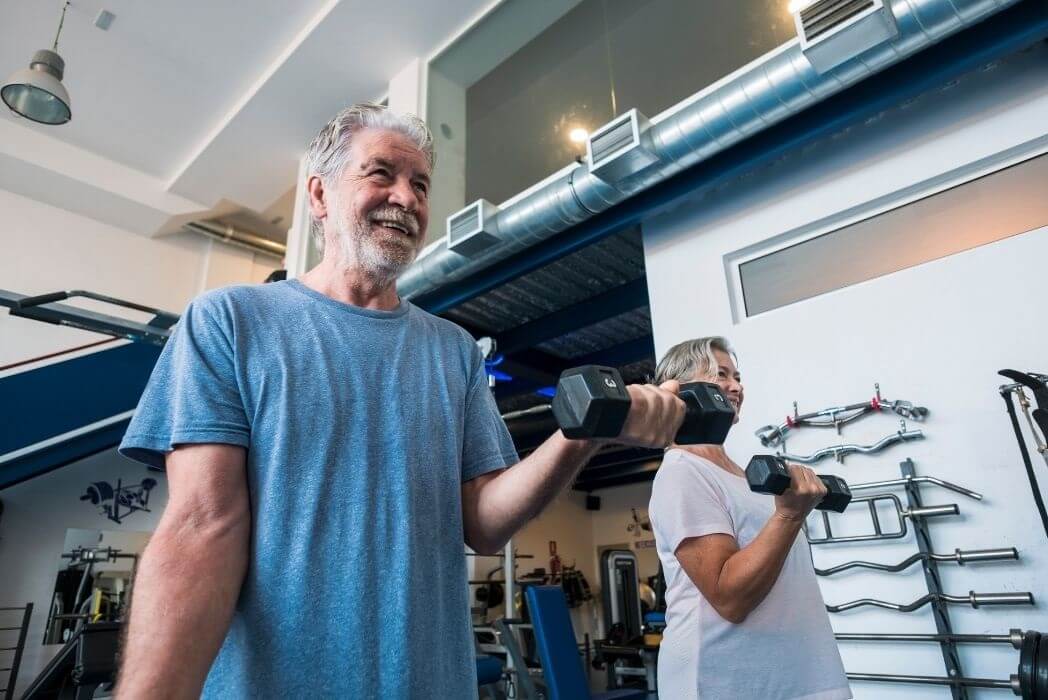 Peloton is really good for seniors. There are classes tailored to suit seniors and people who feel physically weak. There are also amazing options for seniors who have been sporty and would rather keep up with the lifestyle.
Is Peloton safe for Seniors?
Yes, Peloton is safe for seniors. Peloton workouts are designed in such a way that there are multiple classes for everyone. Therefore, as long as seniors identify the classes most suitable for their fitness level, the classes are safe.
With age, most people prefer lower-intensity exercises, especially with the onset of some restricting illnesses such as hypertension. For this reason, the following classes are more appealing compared to others in the same categories;
More rides and walks as opposed to runs.
Taking more bodyweight and resistance bands strength training instead of lifting weights for strength and endurance.
Using non-equipment cardio more than equipment cardio for safety.
Slow flow and restorative yoga instead of highly demanding yoga, especially for beginners.
The good news is that all these 'safe classes' that you would rather go for are available on Peloton. And while there are no classes branded for seniors on Peloton, there are classes that actually favor the old age.
Are there peloton classes for seniors?
Basically, there are no Peloton classes branded as 'seniors', not even in the filter options. After all, I guess that Peloton classes have more to do with your fitness level, type of workout and the difficulty level you can handle as opposed to your age.
So, seniors who are just beginning to exercise can take on beginner classes that are low intensity. Then, it might only take a week or two for the active seniors to get to the advanced difficulty level.
Moreover, Peloton has a wide variety of classes from which one can choose. Class type filter options are under the broad categories, which allow you to take specific classes.
Some seniors can handle any form of workout, and their flexibility, balance and endurance build their age. My grandpa, for instance, is 80, but since he is a retired boxer, he handles more weight and is more flexible than most younger family members.
However, with old age comes signs of senility, which means you have to be more careful with the exercises you consider. Moreover, if you were always busy in your younger days and only just started considering workouts, fewer intensity workouts should be best.
Either way, you don't have to embrace that old age means being weak, and Peloton has just what you need to live longer and healthier.
So, what type of workouts should you consider on Peloton in either of these cases?
Let's have a look at the classes under each category on Peloton;
Peloton Class Categories for Seniors
| | | |
| --- | --- | --- |
| # | Category | Types of Classes for Seniors in Category |
| 1 | Cycling | Low impact, climb, heart rate zone |
| 2 | Walking | Hiking, walk + Run |
| 4 | Outdoor | Walking, podcast |
| 5 | Strength | Bodyweight, upper body, lower body, full-body, Pilates, arms and lightweights, resistance bands |
| 6 | Yoga | Yoga basics, restorative yoga, slow flow |
| 7 | Meditation | Relax & sleep fitness focus, breathwork, mindfulness |
| 11 | Stretching | Foam rolling, upper/ lower body, full body |
Is the Peloton Bike Good for Seniors?
Yes, the Peloton bike is good for seniors. A fitness bike provides low-intensity workouts, which seniors can benefit from.
While your knees may feel weak as you age, a Peloton bike helps lubricate those knees, protecting the joints. The exercises on the bike are also not as intense, thereby considerate of physical weakness.
Are low-intensity rides good for seniors? Yes, they are. Actually, Peloton's low-intensity rides are on the saddle throughout the class. Therefore, if you feel too weak to stand on the pedals yet can handle the cadence on the saddle, these classes are a hit. These are the classes that also strengthen your knees and the recovery from knee injuries.
Interestingly, low-intensity rides are not really slow. Instead, the speed on the pedals and the resistance changes, making the workouts more moderate-intensity. Therefore, you still get to minimize those cholesterol levels and keep your heart healthy.
Which Peloton Rides are Good for Seniors?
Let's get into Peloton rides that seniors should consider;
1. Low-Impact Rides
Low impact rides are on the saddle throughout the class. They are therefore suitable for preventing pressure on the knees and feet. At the same time, they still provide moderate cardio results, hence highly effective.
Who should take the low impact rides on Peloton? All seniors fit in the low-impact ride category. However, these are your primary rides if;
You have a knee injury or risk getting one
Are you in the recovery of a physical injury
Feel general body weakness
Are a beginner on the Peloton bike before embarking on the standing positions that are more advanced.
Can you burn calories on low-impact rides? Yes, you will still burn calories on the Peloton low impact rides. After all, the rides are cardio, hence calorie burning. For example, in a 30-minute low impact class, you can burn approximately 200 calories.
My favorite low-impact recommendation for seniors is a 30 min low impact ride with Hannah Corbin.
2. Climb Rides
The interesting bit about the climb rides is that they are progressive in difficulty. Therefore, you will not surprise your body muscles with intensive exercise. On the contrary, as your body adapts to the workout, the difficulty keeps creeping in.
I love climb rides because they are capable of getting you to a resistance and cadence combination you couldn't have thought of achieving. But, most importantly, your muscles and joints will be ready for it.
Who should take Peloton climb rides? Climb rides are for you if;
You look forward to increasing leg muscle endurance on the Peloton bike
You are past the low-impact rides and can handle the next-step challenge
You are for rides on and off the saddle
Why are climb rides good for seniors? Climb rides are good for seniors because they are progressive in difficulty. This helps the body adjust to the increasing resistance levels, hence building endurance and leg muscle strength.
My best climb ride recommendation for seniors is a 30 min climb ride with Jenn Sherman.
Cycling Takeaways for Peloton Seniors
Cycling on Peloton is actually interesting, especially with the interaction and wide range of classes for all ages. However, it is paramount to learn the following before taking a Peloton cycling class;
Is the Peloton Tread Good for Seniors?
Yes, the Peloton Tread is good for seniors. However, most seniors would have to be selective of the tread exercises. For instance, running quickly depreciates the knee meniscus, hence not a top preference for most seniors. On the other hand, walking is quite low-intensity, hence favourable with almost all seniors.
Why should seniors take Peloton tread classes? The seniors are in the following groups;
They have access to a treadmill, not necessarily the Peloton tread.
They want to maintain their leg strength, as well as balance and flexibility
They love a good run or walk for their fitness exercises
Peloton Treadmill Classes for Seniors?
Walking tread workouts are the best for seniors. These classes are low-intensity, hence do not impact negatively on the knees as running would. Besides, walking helps maintain balance on the treadmill, preventing falling chances.
Peloton has two types of walking classes that favour seniors; hiking and walk + run.
1. Hiking
Hiking is the best Peloton tread class for seniors. It is progressive in incline, which helps with facilitating body adjustment to workout difficulty. Most importantly, the progressive incline is suitable for enhancing endurance and leg muscle strength.
Why are Peloton hiking classes for seniors? They help seniors with;
Adjusting to increased incline, hence the ability to achieve more from the workout.
Improving endurance, especially with the leg muscles
Increased balance and flexibility
The best part is that almost every senior can take a hiking class, as long as they have a stable posture. Try a 20 min hike with Olivia Amato for your starting class.
2. Walk + Run
In normal cases, walk + run classes on Peloton help upcoming athletes and people who want to learn to run. However, with older people, the opposite is the case. Since running could be detrimental to their knees and joints, seniors take a walk + run classes to be on the safe side.
They can have the joy they derive from running and still feel safe by not running throughout the class. Besides, walking in between running bursts helps with catching breath, which is part of a healthy fitness class for older people.
Why should seniors take a walk + run Peloton classes? Essentially, walk + Run are essential for the following reasons;
They are a safer way to take a running class.
They enhance the endorphins that athletes derive from a run, hence better moods
Walk + Run is a suitable class for seniors between 50 and 70 and 80 who are still strong. My favorite option is a short 20 min walk + run with Kristin Ferguson, which has moderate intensity.
Are Peloton Strength Classes Good for Seniors?
Yes, Peloton strength is good for seniors. Actually, strength classes seem to be wired for seniors, such as Pilates. In addition, classes that target specific groups of muscles such as the core, upper body and lower body are also great for specific physiotherapies.
peloton strength classes for seniors
1. Upper-body workouts:
These are workouts that target the thoracic muscles and their components. They include the chest, back, shoulders and arms. Upper body strength training helps open up the chest while strengthening the body parts surrounding it.
Besides that, upper body strength training helps burn the calories, cholesterol and other fats in the upper body region.
With a fit chest area, vital organs in the region such as the heart and the lungs activities are enhanced. After all, the blood vessels and airways' chances of blockage by fats are minimal to zero.
You will also avoid diseases that are at times characterized by older age, such as coronary blockage, high blood pressure and asthma.
Why are upper body strength classes good for seniors? They help with the following;
Healthy respiratory and cardiovascular systems
Stronger chest, back, shoulders and arms, hence minimal pain.
My best upper body strength class recommendation is a 20 min upper body strength with Rad Lopez.
2. Lower Body and Core Strength
Lower body and core strength classes are essential for older people because it helps with balance and posture.
The lower body includes the leg pelvis and the leg muscles and joints. On the other hand, the core regio refers to the abs, lower back and oblique muscles.
Strengthening the core muscles is important for creating a powerful strength body machine. After all, the strength for other exercises and activities is derived from the core region.
Most lower back pains are also solved by strengthening the lower back muscles and stretching the region appropriately.
A strong pelvis, coupled with strong legs, enhance your posture and balance. Combined with core strength, working on these regions and increasing their muscle help you defy age. You will be in your 80's, 90's and even 100's and still standing tall since your back, pelvis and legs are still strong.
3. Pilates
Peloton Pilates are a combination of yoga and strength training. They help you bring awareness to specific muscles that stretch, twist, or lunge at a low-intensity difficulty level.
Pilates are my choice strength workouts for older people because they are the least intense. Despite this, the concentration on a single set of muscles is enough to bring the desired results into play.
Advantages of Pilates for seniors include;
Flexibility, balance and awareness in the same workout
Suitable for all seniors regardless of age and flexibility
My personal best class is a 30 min Pilates class with Jess Sims.
Yoga, stretching and Meditation
Yoga and Meditation are among the most popular Peloton classes for seniors. They are not intense, focusing on enhancing spiritual, mental and emotional wellbeing. Stretching can be used with Meditation to gain more of the yoga benefits.
Why are Peloton yoga, stretch and Meditation good for seniors? Seniors will reap the following benefits;
Improve non-physical wellbeing for personal and social gains
Get better quality sleep and minimize insomnia
Lower the rate of dementia, especially in Alzheimer's disease, by focusing on awareness
Prevent back pain and other joint pains through intensive stretching
My favourite yoga class for seniors is a 30 min morning yoga pose with Ross Rayburn. I find it excellent for yoga basics training, muscle stretching and personal awareness.
I recommend 10 min foam rolling with Hannah Corbin in the stretching exercises. It helps relax the chest muscles, enhance breathing, ease back tension and lower or prevent back pain.
Finally, 20 min sleep meditation with Kirra Michel is the best for getting you the quality sleep you have lost for a few days now.
Best peloton instructor for seniors
All Peloton instructors are well for seniors, It totally depends on you what classes are your choice. But most seniors do like the below instructors
Olivia Amato
Rad Lopez
Kirra Michel
Etc.
Is Peloton good for Seniors Over 70?
Yes, Peloton is good for people over 70 years. Actually, it has so many people in their 70s exercising on the treadmill, bike and digital app. And, 70's isn't even the highest age.
There is also a spectrum of hashtags targeting people in their 70s, more than any other age-related hashtags. So, get yourself on a Peloton class because you need it. After all, you will not be alone.
Wrapping Up
One of the most amazing parts about Peloton is that it is suitable for all ages. Kids as young as three have a class on Peloton, and there is no upper age limit for any of the classes.
Seniors can take any peloton class depending on their fitness level. There are options suitable for the health needs of everyone, even those who are disabled in their old age. So, which class is most suitable for you? Or are you giving up on the blossoms of life?