Andy Speer is a workout instructor working with the most popular indoor workout platform today, Peloton. And, he happens to have been among the most popular couches on the platform. He has a following of over 21k on Facebook and 150k followers on Instagram.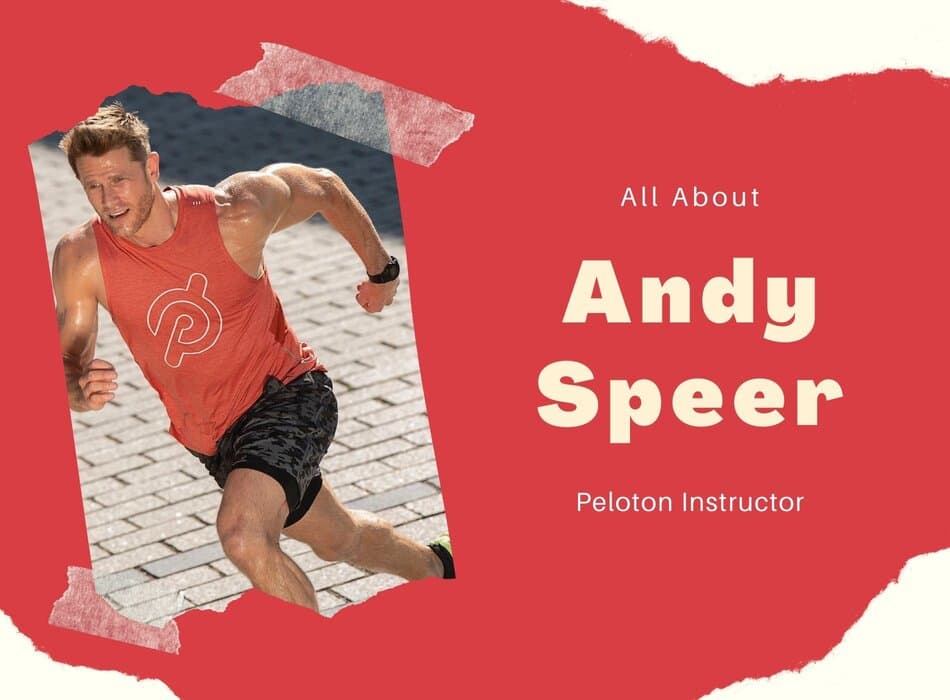 Speer is my favorite total body strength instructor, and I know this because he is my random choice whenever I don't have a Peloton class plan. He recently went on Facebook to announce a relationship with Rebecca Kennedy, another Peloton instructor. He is also the baby daddy to the TV personality Katie Waissel's son, Hudson.
Are you already intrigued by the interesting details on the Peloton instructor? Let's dig into more;
A Summary Table on Peloton Instructor Andy Speer
| | |
| --- | --- |
| Name | Andy Speer |
| Occupation | Peloton indoor workout instructor |
| Age | 37 (as of 2021) |
| Home State | Connecticut |
| Height | 6'1" |
| Weight | 175 pounds |
| Education | University of Miami |
| Main Workouts on Peloton | Strength, tread, stretching |
| Life Before Peloton | Pole vaulter, gymnastic, fitness model, personal fitness trainer |
| Girlfriend | Rebecca Kennedy |
| Ex-girlfriends | Katie Waissel, Alex Silver |
| Children | Son Hudson (2018) |
| Monumental Moment | Winner of Men's Health (2014) |
| Play | Men's Health DVDs |
| Passion | Fitness |
| Personal Workouts Outside Peloton | Olympic weightlifting, gymnastics, kettlebells, meditation, yoga, and Muay Thai kickboxing. Further enjoys listening to Podcasts, watching documentaries, and reading. |
| Facebook | https://www.facebook.com/AndySpeerPeloton/ |
| Instagram | https://www.instagram.com/andyspeer/?hl=en |
Early Life
Andy Speer has the most interesting life I have seen. He was born and raised in Connecticut. He was into gymnastics from a young age, and he joined pole vaulting later, which saw him through to the University of Miami.
He says that outside vaulting and gymnastics, he had low self-confidence stemming from a skinny outlook, with the ears protruding. Worse still, his face was ever covered in acne as a teenager. Quite a surprising revelation for the highly admired fitness trainer and model, right?
Fitness Achievements
So, what changed? When Speer went to college, he got to eating more and working out more strength training. Within two years, he had already shot from 140 to 175 pounds.
Did I mention that Speer has a life full of surprises? Despite being at 175 pounds, which is quite light for a heavyweight lifter, by the way, he participated and completed the Beast Challenge. It consists of a weighted dead hang pull-up, a pistol squat, and finishing the single-arm overhead press using a 106kg kettlebell. And damn, he finished the challenge!
Speer also participated in Men Fitness DVDs by Shaun T, which became bestsellers at the Beachbody fitness platform. He is a renowned fitness model who crowned his career with a win in 2014 after participating in Men's Health competitions.
On top of these, the once-skinny personnel became sought-after personal fitness trainers in New York City. It was during his time as a fitness trainer that Peloton took note of Andy Speer.
Andy Speer Relationships
Andy was with a long-time girlfriend and fiancee, Alex Silver, but they parted ways in 2017. He started dating Katie Waissel, a TV personality, but they broke up in August 2018. However, Waissel was already eight months pregnant at the time of their breakup. She gave birth to their son, Hudson, making Speer a first-time dad.
Andy Speer recently went to Facebook to make his relationship with Rebecca Kennedy, a fellow Peloton instructor, public.
Andy Speer and Peloton
Andy Speer will always have a way of making his Peloton users smile. Whether it's the current total body workout that is really kicking the ass or a 5-minute warm-up, he makes sure that you enjoy it all.
Most importantly, regardless of how intense the workout is, Andy will always have a way of showing you that it is for you. It is no doubt that fans are always applauding him on Peloton platforms after the classes.
Basically, Andy trains on the tread and strength workouts. Therefore, you can find him in the strength training section, running or walking. Better still, you can get him in Peloton's combination of strength and cardio training on the tread, the tread Bootcamp.
Being a fitness model and enthusiast fits his career. As is Peloton instructor signature, Speer can motivate his users throughout a class. He manages both the talk and the workout, making the exercises seem simpler regardless of how difficult they actually are.
Speer is motivated to help others grow in the world of fitness. He feels that other instructors did the same for him to be where he is, hence his responsibility to reciprocate. He adds that he wants his class to be challenged and to grow. Therefore, he ensures that every technique used in his class will help the users in a way.
What Does Andy Speer Eat?
Andy follows the routine diet of a fitness instructor, which comprises a lot of water at the start, during, and by the end of the day.
In the morning, Andy starts with a glass of water. Then, he has a good filling of whole milk coffee before finishing his drinks with an Athletic Greens cup. After the drinks, he will follow up with yogurt, which is usually accompanied by seeds. He also takes eggs and toast, in addition to the fruit in season. This is typical daybreak for most instructors.
However, how he ends his day is quite different; he either takes chocolate chip cookies or gummy bears! He feels that he deserves the treat after a long day.
Does Andy Speer Have Live Classes on Peloton?
Yes, he does. Actually, Andy Speer is among the most frequent Peloton instructors on Peloton schedule for live classes. However, you can also get him on the on-demand section. So go to either strength, running, walking, or tread Bootcamp classes, and filter the instructor to Andy Speer for a glimpse at his previous classes.
In a Nutshell;
Andy Speer is a Peloton instructor who motivates his class to improve with each new or common technique. And, being an example by himself, he is proof that the fitness and shape anyone desires is achievable, regardless of the starting point. All you need is consistency.
Read Also: