Jess sims was a kindergarten teacher before coming to the Peloton. She played basketball from a tender age and later became a captain in high school and college. While growing up, Jess had challenges with her biracial identity, but she met a coach who helped her overcome this and is currently one of the first color woman Peloton instructors.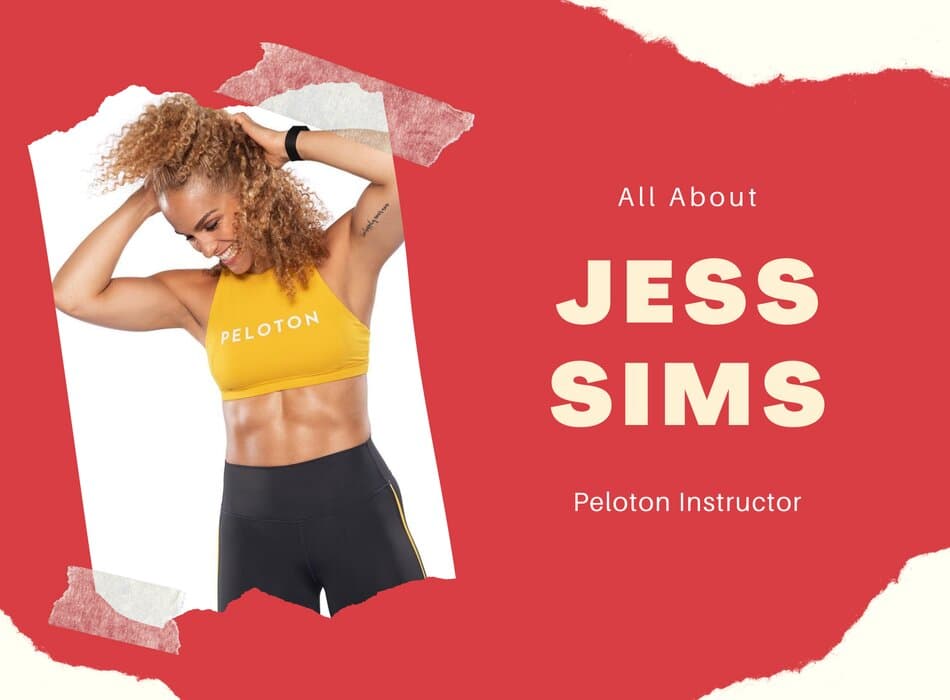 The trained teacher worked in different schools in various capacities before realizing her true calling of being a fitness and health awareness coach. But when she left teaching, she opted to be a teacher by heart at the Peloton. She infuses different training methods in her workout sessions to ensure they're fun, engaging, and enjoyable.
Jess Sims: Hometown, Height, Weight, Net Worth, Profession, Birthday, Instagram, Biography, and More
| | |
| --- | --- |
| Full Name/ Real Name | Jess sims |
| Birthplace/ Home Town | Massachusetts city north of Boston |
| Age | 31 years |
| Birthday | October 3, 1990 |
| Birth Sign | Libra |
| Height | 5 feet 7 inches |
| Weight | 64 kgs |
| Shoes | N/A |
| Diet/Eating Habit/ Favorite Foods | 'Shreggie' vegetable |
| Role Models/ Favorite People | The Peloton members, father |
| Likes | N/A |
| Favorite Destinations | N/A |
| Favorite Dish/Food | Daves Killer Bread, avocado, eggs, nuts, salads, hummus, apples, chicken sausage, and shrimp |
| Favorite Products | N/A |
| Ethnicity | American |
| Education (School/College/University | Trinity college |
| Marital Status | Single |
| Children/ Baby | N/A |
| Current Profession | Peloton instructor |
| Previous Profession | Kindergarten teacher, Boxer instructor |
| Notable Books | N/A |
| Social Media | Instagram, Twitter, Facebook, YouTube |
| Net Worth | Between $1.5 and $2.4 million |
| Disease Diagnosed | N/A |
Jess Sims Early Life and family
Jess grew up in Massachusetts city north Boston under her Italian mother and a black policeman father. Her mother taught her to be a caring person, while the father inspired and encouraged her to be an active sportswoman. From the age of 6 years, Jess started playing basketball, and her father was always there to support her.
The Massachusetts-raised girl also participated in tap, ballet, jazz, softball, skating, and tennis. However, she got much interested in soccer, basketball, and lacrosse. Jess is naturally an athlete with leadership skills, an attribute she acquired while growing up. This saw her become a captain for three sports in high school before being a captain during her college days.
However, while growing up, Jess had challenges on how to navigate being biracial. This happened until she was 13 years when she met her AAU coach, who gave her an article called 'I'm Black and White.' She says she knows some people see her as a white person while others see her as a black person. Jess recalls that she never saw her grandfather from her mother's side for a very long time in her life. This is because they disagreed when she got married to her black father. Currently, Jess is single, and there's no information about her past relationships.
Jess Sims Career Journey
Jess began her career as a teacher with Teach for America in Houston. She got this opportunity as luck after coming across a flyer at her college gym's bathroom. After googling, it came out to be a good competitive chance she'd never want to miss. This made her move to Houston, Texas, where she taught as an elementary teacher while learning master's degrees in education with a major in teacher leadership.
She later taught as a professional teacher in a kindergarten at a new school in Harlem, New York. Jess rose to ranks and became an operations manager at the same school K-12 network of schools. She got an advancement in her career when the opportunity to become an assistant principal in Lynn, Massachusetts, came her way.
Jess Sims Career Change
While working as an assistant principal, she felt something was wrong. Jess says she could save some cash and balanced life-work time and good money, but something was amiss. That's when she started going back to the fitness, health, and wellness journey. At first, she was reluctant to change her career because of fear. But later realized it was easier being a teacher but in a different setting. This made her go back to New York City and, after six months, became HIIT and boxing instructor in various boutique studios.
After one year there, she received a life-changing call requesting her to attend an audition for a coaching role in the Peloton. This was after talking over coffee with Rebecca Kennedy (Peloton instructor), a student in her boxing classes. The two talked about future opportunities where Kennedy mentioned to her that she'd wish to see Jess be part of the team to launch Pelotons' new treadmill.
Jess felt great about the idea but was not ready to take the opportunity soon. This is because she believed she needed more training to be comfortable running in front of cameras. She declined the offer to attend the auditions until fate brought her close to another Peloton instructor after one year. Olivia Amato (Peloton instructor) asked her to come to the Peloton, something she was now ready to do. Jess contacted Rebeca Kennedy to inform her that she was willing to join the team. After a coffee meet-up, she went to auditions and became successful.
Jess Sims Journey After She Joined Peloton
When Jess officially became a Peloton instructor, she was the first woman of color in that team. This made her nervous. But after meeting Tunde Oyeneyin (Peloton instructor), they were able to meet #blackgirl magic' sub-group members in one of her studio classes. The team encouraged her to be herself and assured her of their love, which helped dissolve the fears.
Jess Sims as A Peloton Instructor
Jess joined Peloton in 2018, and she has been able to get more than 2 million online students. While working as a Peloton instructor, Jess tries her best to encourage women to be comfortable in their image and strength. She says being skinny is natural, but both slender and thicker people are beautiful. She believes she's still a teacher at heart, which has seen her grow professionally and personally.
Jess believes growing close to her father helped her learn many skills she uses in her Peloton classes. She insists on working as a team, hard work, and discipline while undertaking her classes. To her, there's a connection through sweat as it comprises pain, joy, and happiness.
Jess Sims Training Style
Jess uses 'glazed donut' warm-ups (a nickname for her steamy workout sessions) style to keep her students on toes. She also incorporates muscle shaking programs which anyone, regardless of age, can comfortably do. She makes her sessions interactive and engaging to ensure everyone enjoys, has fun and be attentive. Jess uses EMOMs, AMRAPs, and listening games as a way of incorporating teaching in her classes. She also includes a playlist in her workout sessions that helps her students feel refreshed during the workout sessions. Jess has a signature phrase for her class "how you do anything is how you do everything."  
Read also: