Does Peloton have Pilates classes? Yes, it does. Even better, there is a range of instructors from all fields in Peloton workouts leading the classes.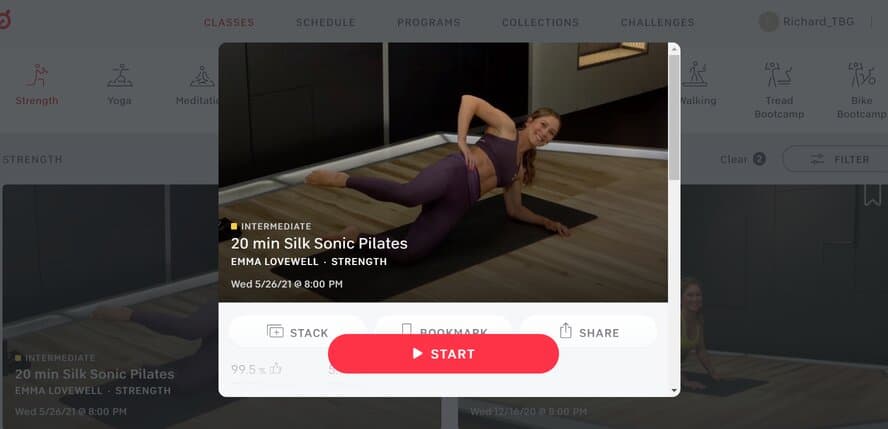 Essentially, Peloton Pilates classes are in the strength category of classes. They include extensive stretching and moves, which target spinal alignment and core stability. Luckily, the workout is low-impact, hence suitable for all users on Peloton; beginners, intermediate and advanced.
Amazingly, you can get the classes on the Peloton treadmill, bike, or digital app, as long as you have a Peloton subscription.
Why Peloton Pilates Classes are Important?
Pilates basically strengthens your primary muscles for all other workouts, whether yoga, runs, or rides. All workouts tend to draw strength from either the core or the spinal area, hence the necessity to concentrate on strengthening the two. And how better to do this than join a Peloton Pilates class?
On top of that, Pilates incorporates mindful moves and stretching. Some people actually confuse it for yoga, and only it has some moves that are not in yoga. With the conscious aspect of the workouts, they add a more meaningful element to your workouts.
Most importantly, the moves in Pilates tend to target all other muscles in the body. So other than the core and the spine, the classes will work on your glutes, arms, hamstrings, shoulders, among others.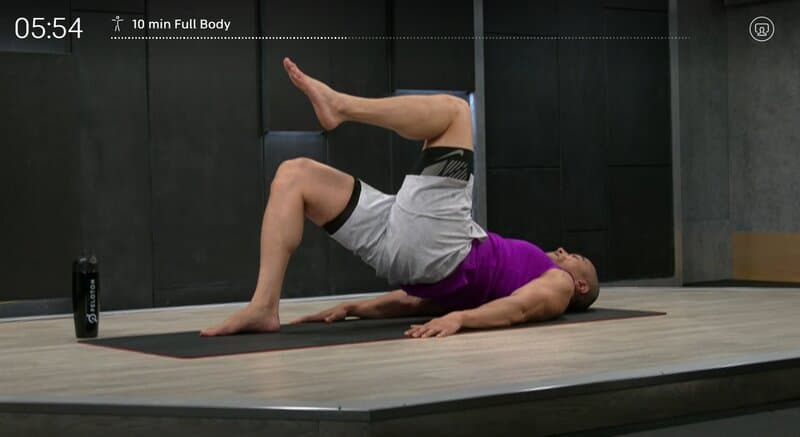 Which Equipment Do You Need for Peloton Pilates Classes?
The good news is that you don't need any equipment for the Pilates classes. You will only need your yoga mat, and probably a towel and a bottle of water.
Therefore, even if you don't have any equipment and are on the Peloton digital app, the Pilates classes will be just fine for you.
Peloton Pilates Instructors
Suitable for all of us; Peloton has several instructors for the Pilates classes. They come from yoga, meditation, dance, bike, treadmill, and strength trainers across the workout disciplines on Peloton.
Pilates kicked off with the following trainers:
Later on, we can see more of our favorite instructors on board as well. They include;
Ally Love
Rebecca Kennedy
Anna Greenberg
At least you get to have an opportunity with your favorite instructor from other workouts, or you can still have one from your main workout routine.
Who Should Take the Peloton Pilates Classes?
One of the most outstanding features of the Peloton Pilates classes is that they are for everyone. Regardless of your health condition, age or gender, everyone can be comfortable with Pilates.
While Pilates classes differ in intensity, one has the option to slow down or increase the intensity depending on their preference.
Moreover, the classes vary in length. The lowest goes for 10 minutes, while the longest takes up to 45 minutes.
Types of Peloton Pilates Classes
Peloton varies in intensity, hence a classification with the intensity basis. Let's venture into each of these classes briefly;
1. Intro to Pilates
Intro to Pilates is the first class you should consider when joining Pilates for the first time. They give an insight into Pilates classes, including terms used and basic moves to expect.
Currently, the instructors leading the Intro to Pilates classes are Sam Yo, Emma Lovewell, and Aditi Shah.'
The classes range between 10 to 15 minutes and are actually not sweaty at all. However, a couple of sessions in the class, and you will be ready for a real Pilates class.
2. Beginner Pilates Classes
Of course, all Pilates classes are low-impact. However, the Beginner Pilates classes are perfect when you want more consideration, are new to the moves, or have just graduated from the Intro to Pilates classes.
They are longer than the Intro to Pilates, taking between 20 to 30 minutes. So here, be prepared to shed some calories and sweat a little. However, since it is for beginners, anyone can join and manage the class.
Moreover, most Pilates classes instructors lead the classes. However, most are either yoga or Intro to Pilates instructors, hence a considerate session.
3. Intermediate Pilates on Peloton
This class actually has among the most extended training sessions. It may take either 30 minutes or 45 minutes. Quite intense and with more advanced moves, the session is excellent for people who have been on Peloton or succeeded with beginner classes.
The classes long have the impact of repetitive moves, which brings better results.
4. Advanced Pilates on Peloton
The advanced classes also vary between 30 to 45 minutes. They train increased resistance and endurance. Peloton users who have mastered Pilates moves will do well in the classes.
However, the best part about Peloton classes is that the instructors make even the advanced workouts achievable for all.
Are Peloton Pilates Classes Good for Recovery?
The Peloton Pilates, especially the beginner level, is a great option for active recovery when you are having your rest day.
Also, when you have a recovering injury, the classes are a low-impact option for a quicker recovery. After all, Pilates classes were actually started for people with injuries.
Read Also: Best Peloton Recovery Classes help you back again strong
List of Some Best Peloton Pilates Classes
Are Peloton Pilates Classes Worth It?
Yes, they are. The Pilates classes may be low-intensity, but they are essential for all categories of users. First, they strengthen your body muscles with endurance and resistance. Then, it becomes easier to engage in all other workouts. In short, it is definitely the foundation to success in all other workouts, low, intermediate, and advanced options. You also get to tap into the potential for moves and postures you probably did not realize were within you.
Wrapping Up
Everyone on Peloton should try on the Pilates classes. They are central to all other workouts on and out of Peloton. And since you don't need any equipment to be part of a class, why not try it out? After all, there are options for just 10 minutes when you are just testing the waters.
Even better, you can log in to an on-demand Pilates class and watch all about a Pilates class before diving into one.