Peloton introduced boxing classes in its cardio category and brought in a full boxing program. So now you can learn the foundational tricks in boxing and take real classes from the comfort of your home.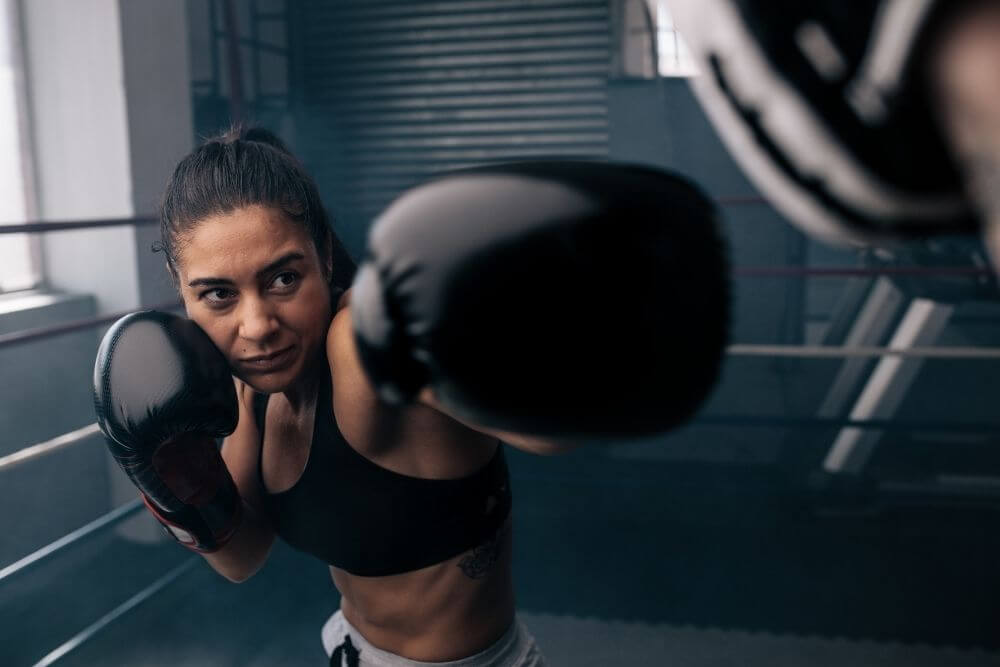 And while for some of us, it is all about fun and exercise, for some, it may just be the beginning of a career or a hobby. After all, it is how it all started with Peloton instructor Rad Lopez, whose family had boxing as a sport. Today, he is among the first Peloton instructors in boxing classes.
Does Peloton Have a Boxing Class?
Yes! Finally, Peloton has incorporated boxing classes in its cardio classes. There is also a whole two-week program dedicated to boxing, under 'Get Hooked: Peloton Boxing.
On top of that, the classes are coached by instructors who have a strong background in boxing. Currently, three instructors are guiding the workouts; Rad Lopez, Kendall Toole and Selena Samuela. Peloton promises to add to the list of instructors as well as the classes.
So, Peloton Boxing Program: Get Hooked
Whenever I feel that I need some specific disciplined classes, I always go for Peloton programs. However, it was different when I found the boxing program addition in the programs list.


Basically, the Peloton boxing program is referred to as the 'Get Hooked: Peloton Boxing' program. It takes two weeks, like most other Peloton programs.
I have never been to a boxing class before, but the thought of kicking punches and learning something new on Peloton was intriguing.
Most amazingly, the boxing program starts with training about the basics of boxing. And, the training takes a whole week, which is five days, 20 minutes for each class. Therefore, even for a newbie like me, taking the class shifts from just learning to enjoy the dynamics of boxing.
So, during week one training, the classes train how to throw punches, defense, footwork, and a combo of some or all of these. The training is slow and repetitive, which ensures that you actually grasp the concept. These concepts are key to getting the best of boxing, which will be in week two.
Then, in week two, you actually feel a little like an expert in boxing. After all, you already have the most foundational moves and stances. Usually, the classes include;
5 minutes full-body workout
30 minutes shadowboxing exercise
5 minutes post-workout stretching
And, before you know it, the program will be over because the second week consists of only three consecutive days of Shadowboxing.
Nonetheless, you have to finish the boxing program once you start it. Also, finishing the first class is the key to the second, the second to the third and so forth, unless you decide to skip specific classes. In short, you would only have a preview of the next class if you were done with the preceding class. But that's why it's a challenge to go through all the scheduled classes.
What Accessories Do You Need for Boxing Classes?
Basically, Peloton boxing (Shadowboxing) does not require any special equipment. However, you can consider a workout mat, especially if you have a slippery floor, to promote grip during footwork. Also whichever clothes you prefer, comfortable high sole shoes, sports bra are recommended.
How Does Peloton Boxing Work?
The boxing category that Peloton currently provides is shadowboxing, which means that you punch the air as though you have an opponent with you.
It involves the following basics;
Stance: How you position your feet, and even toes, during the boxing session
Jab: how you throw the punches professionally
Defence: involves ducking, slipping and rolling to evade an imaginary punch from the opponent.
How Do You Get Boxing on Peloton?
The boxing classes and program are available on the Peloton bikes, treadmill and digital app. But how do you get these classes?
How to get boxing program on Peloton;
Log in to your Peloton account on the bike, treadmill, or digital app.
Go to the Programs, and tap on the option.
In the Programs, 'Get Hooked: Peloton Boxing' is conspicuous among other programs. Click on it to start your Peloton boxing program.
How to Get a Boxing Class on Peloton;
To get a single Peloton boxing class, follow the steps below;
Click on the cardio class option
Here, go to the filter option and filter class type to Shadowboxing. You don't have to filter by instructor or duration since few options are available.
Tap on the class you want to start with, among the thirteen options available.
Peloton boxing classes range between 10, 20 and 30 minutes. You can choose from Kendall Toole, Rad Lopez Selena Samuela instructors.
The music is amazing in all the classes, with most being Eminem tracks, though Kanye West, A$AP and other suitable music for boxing are also available. I even get to enjoy my personal favourite, Despacito by Luis Fonsi and Daddy Yankee, in Rad Lopez's 10 min class.
Peloton Boxing Classes on the App
Other than the Peloton bike and tread, the Peloton boxing classes are available on the app. Therefore, you can check the classes on your Peloton iOS, Android, Fire or Roku app.
On top of the classes, the boxing program is also available on the Peloton digital app.
Where are the Boxing Classes on Peloton?
The boxing classes on Peloton are under cardio classes. Essentially, boxing is a form of cardio exercise, and since you don't need any equipment, it falls under the cardio category on Peloton.
Schedule & Class List for Peloton Boxing" Program
As mentioned earlier, the Peloton program classes will not show until you unlock the classes by completing the preceding classes. However, I have a list of the Get Hooked: Peloton Boxing classes that you should expect and the instructors' names for the different classes;
Week 1
Week 2
The classes are continuous for five days; then, you get a two-day rest. After the rest, you get ready for the second week, which is a little different from the first week. The classes are more intense and take longer, which explains why you take a resting day in between the classes.
Peloton Boxing Classes Equipment
As of now, you don't need any equipment to take the Peloton boxing classes. Not even the mitts and punching gloves, nor a punching board. However, Peloton may start selling or recommending boxing equipment as the classes progress.
Peloton Shadowboxing
Peloton introduced shadowboxing for all its starting boxing classes. This means you punch and assume you receive punches from an imaginary opponent. You will use all the tactics of a real field, though they are for fun and fitness on Peloton.
Is shadowboxing a good workout? Yes, it is. Shadowboxing involves tactic, speed and concentration, all of which require significant energy levels. You will be surprised to start sweating within the first couple of minutes in the class.
Moreover, Shadowboxing is an excellent form of cardio for people without cardio equipment. You get almost the same results as a person taking a HIIT class on the bike or tread while you have no equipment.
Finally, Shadowboxing is for everyone. Whether you are recovering from an injury or feel like you are not ready for the equipment, Shadowboxing is for you. Even better, people who have exceeded the Peloton bike or treadmill weight limit can start with Shadowboxing and shed weight for the equipment.
Does Peloton Offer Kickboxing Classes?
Does Peloton have kickboxing classes? Not yet. For now, Peloton does not offer kickboxing classes. Rather, the boxing classes are all shadowboxing options. But with all the excitement about punches and boxing tricks from users, Peloton may just drop the kickboxing surprise soon.
Is Peloton Going to Add More Boxing?
Yes, Peloton reports that it will add more boxing classes and even instructors in its blog. So it is no wonder Bradley Rose, a Peloton instructor who also has a background in boxing, teased about boxing in an Instagram update.
Peloton seems to have more up its sleeve for the boxing cardio classes. So let's just exhaust the available ones for now!
Is Boxing a Good Workout?
Yes, boxing is a good workout for the following reasons;
It is a cardio workout, which enhances blood flow all over the body
Being full-body works all the muscles, from upper-body to core and lower-body.
It doesn't require any equipment to start
Boxing is an excellent option for weight loss and calorie-burning goals
It relieves stress and creates confidence
Does boxing burn belly fat?
Boxing is a high-intensity exercise, which means that it is effective for visceral fat-burning. When taking jabs and crosses, you will have your belly contracting and twisting for optimal energy. Of course, that belly fat will have to turn to lean abs muscles in the process.
Is It OK to Do Boxing Every Day?
Yes, you can train boxing every day if you have the energy. First, however, ensure that you listen to your body, incorporating low-intensity workouts in your high-intensity boxing training.
Is Boxing Good for Females?
Yes, boxing is a fitness exercise that helps build body positivity, make one feel strong and confident, as well as boost stress-free hormones.
Things to Know Before You Try the New Peloton Boxing Classes
Here are a few tips for your pocket as you prepare for the Peloton boxing classes;
Ensure that you get comfortable and flexible clothing for the classes, which will not limit you in any way.
Start with the training classes, and the best option is in the Get Hooked first-week classes.
Put in mind that the classes are not in a real arena. Therefore, it is OK not to do it right. We all start from somewhere.
However, assume that you are actually in the arena and build up your confidence for composure, good punches and defence mechanisms.
Take the classes more often, incorporating them into other workouts. For example, 10-minute shadowboxing classes will ensure you don't forget the boxing basics.
Is Boxing Better Than Gym?
No, boxing is not better than a gym, and neither is a gym better than boxing. Each has its own benefits. Usually, the gym has weights, which enhance endurance and strength. On the other hand, boxing is a cardio workout that facilitates optimal weight loss, oxygen and blood flow for fitness.
Boxing in the fitness club Vs. Peloton Boxing
Boxing in fitness clubs is more of professional boxing training. There is minimal music or choreography and more focus on the boxing skills that you gain.
Moreover, the fitness club features boxing equipment for training. It also requires the use of punching gloves or mittens. After all, you get a physical opponent to punch and who punches you.
On the other hand, peloton boxing is more of a cardio workout for the sake of fitness. The classes are not strict on the skill, but rather the cardio benefits that you get. Also, your opponent is imaginary, so you don't need any boxing equipment.
Wrapping Up
Peloton boxing is a fairly new exercise on the Peloton. However, it seems to have been long-awaited, and fans cannot wait for additional classes. So far, so good, with the music, instructors and training encouraging!
Related Posts: