The season for gifting festivals is here, and there is this friend, partner, or family you really want to surprise. While no idea seems complete in mind, one thing is for sure, your friend or family is a Peloton die-hard.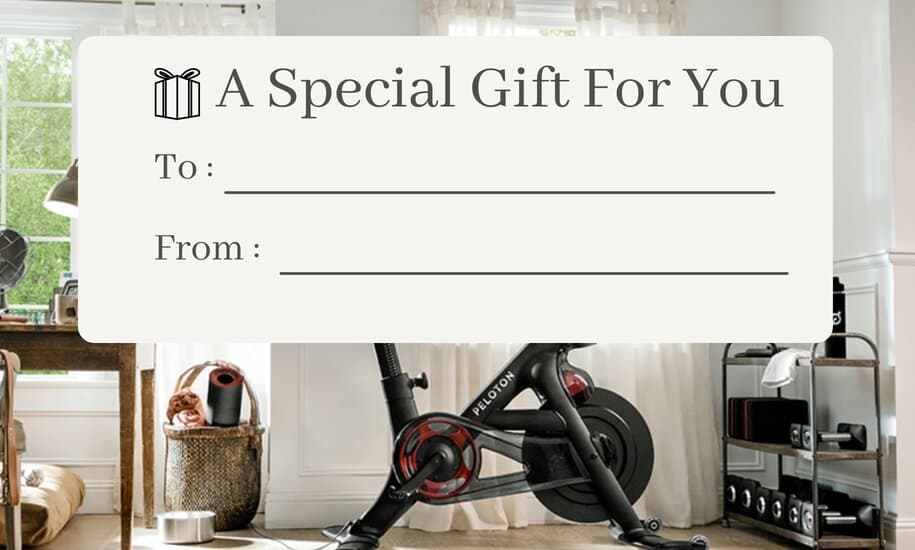 In this case, a gift that will really make meaning to them has to be Peloton-connected. I mean, they are always talking about Peloton and its impact, luring others into the workouts, or just expressing how much they would love to be part of the community. Whichever your case is, this guide is definitely targeting you
1. Peloton Accessories Rack
With the wide range of accessories you need with a piece of Peloton equipment, being organized is quite a challenge.
I came across Crostice for Peloton shelf; an accessories rack that accommodates all the Peloton accessories in a tidy design. Even the Peloton quotes you may have in the house has a place on the rack.
If your gift budget ranges within $100, you can get this piece for your friend and eliminate a menace they have been dealing with.
2. Coffee Peloton Wine Repeat Shirt
If your friend loves coffee and wine as well as they love their workout, you could combine the three in one casual t-shirt. Of course, they can wear the t-shirt outside their workouts, but it is cute for showing off their love for Peloton.
The t-shirt is quality and stylish for summer for warm-season wear. Even better, your female friend will really appreciate that you care for their likes.
3. Favofit Headbands for Women & Men
Peloton is a sweaty workout; this there is no doubt. Therefore, considering a sweatband package is really thoughtful for your Peloton friend. This package comes with four sweatbands, which will help with changing.
Moreover, they are comfortable and non-allergic, so they will not cause irritation or marks on the forehead. I also love the fact that they are quick in moisture-wicking, enhancing comfort and a dry ride.
4. Bluetooth Headphones
Bluetooth headphones that will turn workouts magical and consuming less time than in reality are fantastic for Peloton. They also connect perfectly with the Peloton bike or tread.
Being wireless, the headphones are also less of a nag and more convenient for your Peloton fan friend. Not forgetting that they also repel sweat and water droplets, adding to their convenience and durability. Apple AirPods Pro or AFTERSHOKZ Wireless Bluetooth Headphone will be a good choice.
5. Heart Rate Monitor Armband
You can get a heart rate monitor armband for a Peloton fan since this is a major accessory in the workouts. In addition, this armband is both Bluetooth and Ant+ compatible, which makes it a perfect fit for Peloton.
Besides, the band is suitable for heart rate monitoring and tracking calories burned, among other metrics.
6. Water Bottle
the Peloton bike already features a water bottle holder, so what about filling the gap with a quality cycling water bottle? This water bottle fits into all standard water bottle cages, including fitness bike cages.
Moreover, the bottle features a high-flow mouthpiece, hence minimal time-taking gulps. Therefore, your friend will manage to rehydrate fast and keep up with the Leaderboard.
7. Peloton Tripod Fan
Getting a perfect gift does not mean that you have to beat yourself with something expensive. Instead, you can get a valuable yet meaningful product that is relevant to Peloton lovers.
You only need to know what your friend does not have, and any idea within this range will strike as an excellent gift idea. For instance, if your friend has not yet thought about a fan to cool his studio when he's on the workouts, how about a small tripod fan to go with the bike.
8. Spintray for Laptop/ Phone Holder
Almost everyone has found themselves working from home, and working from the Peloton bike is always a welcome idea. It keeps you working or reading while at the same time shedding those extra calories.
If you are looking forward to giving your friend something to perfect this idea, a Peloton bike spin tray is an amazing gift. It keeps the laptop safe on the bike, and they can even add a cup of coffee for a rejuvenated working session on the bike.
9. Peloton Bike Handlebars Sweat Towel
On a high-intensity workout, sweating is obvious and quite encouraging because it shows that the workout was fruitful. However, sweaty hands may affect the grip on the handlebars, which is why a solution is necessary.
So, for the Peloton bike plus owners, consider this Anti-sweat handlebars towel for the bike plus. On the other hand, if yours is the original Peloton bike, go with this sweat towel specifically for the Peloton bike.
10. Bike Shoe Holder Compatible with Peloton
Peloton shoes are only good for the bike, so it is in order to leave them on or close to the bike. This bike shoe rack gives your friend a tidy and cute alternative for storing the shoes after workouts. It hangs on the rear cage of the bike, hence cause no distractions during the rides.
Further, the shoe rack accommodates two pairs of shoes for an extra pair option.
11. Treadmill Laptop Desk
What if your friend is a workaholic and seems to forego workouts for work despite owning a treadmill? You can get them a treadmill desk, which accommodates a laptop and allows them to work while running or walking on the tread.
This may work the trick, as they will see the double benefits they gain from working and working out simultaneously.
Final Thoughts
Peloton is interesting, and it is not a wonder that it is the most popular home workout option. Other than exciting people, it is no doubt that it is helping a lot of people realize fitness goals. If you want to encourage a Peloton fan to continue doing better, you can always get something directed to their fitness passion.
Read Also: