Peloton and Beachbody have become exciting and convenient home gyms that make up for the most gyms that have already closed down. They bring a range of on-demand classes that you can choose for streaming, in addition to live classes for real community interaction.
Nevertheless, despite the two having several similarities, they have wide differences that give each its uniqueness. While Peloton is full of life and with thousands of live and on-demand classes, Beachbody boasts of excellence in structure.
Let's get into this and much more about the two workout platforms, but first;
Peloton Workouts?
Peloton is a platform where you can stream both live and on-demand classes. In addition, it features an all-access membership, which is accessible to Peloton equipment owners. Peloton equipment includes a tread, a tread plus, a bike, and a bike plus.
Other than the all-access membership, the platform has a digital app accessible to both equipment owners and people peloton equipment.
Read Also: Peloton All-Access Membership Vs. Digital(App) Membership
Beachbody Workouts?
Beachbody is a workout platform that started with a workout where there are only on-demand classes, commonly known as BOd (Beachbody On Demand).
However, current developments in the field, coupled with pressure and competition, have given rise to live classes on Beachbody. These classes were scheduled to start in the fall, around late September 2021. As a result, there will be a difference between BOD users and those incorporating BODi in their workouts. We will see this as one of the discrepancies between Peloton and Beachbody.
Peloton Vs. Beachbody: Head-to-Head Comparisons?
| | | |
| --- | --- | --- |
| Features | Peloton | Beachbody |
| Live Classes | Yes | Yes |
| On-demand classes | Yes | Yes |
| Cost | $44 per month for unlimited membership $12.99 per month for digital app Both the unlimited and digital app memberships include live and on-demand classes | Live: $19.95 per month plus BOD membership cost On-demand: $59.85 for three months $77.70 for six months $99 per year |
| Equipment for Interactive classes | Peloton bike Peloton bike plus Peloton Tread Peloton tread plus | MYX II bike MYX II plus bike |
| Number of on-demand classes | Over 10,000 (continue to increase) | 1500 (constant figure) |
| Type of workouts | Strength, cardio, yoga, meditation | More of strength |
| Music | Excellent | Fair |
| Countries available | USA, Canada, UK | USA, Canada, UK, France, APO, and FPO US Military addresses |
| Longer duration packages and discounts | No | Yes |
| Military discounts | Yes | Yes |
| Nutrition program | No | Yes |
Similarities and Differences Between Peloton and Beachbody Workouts
1. On-demand and Live Classes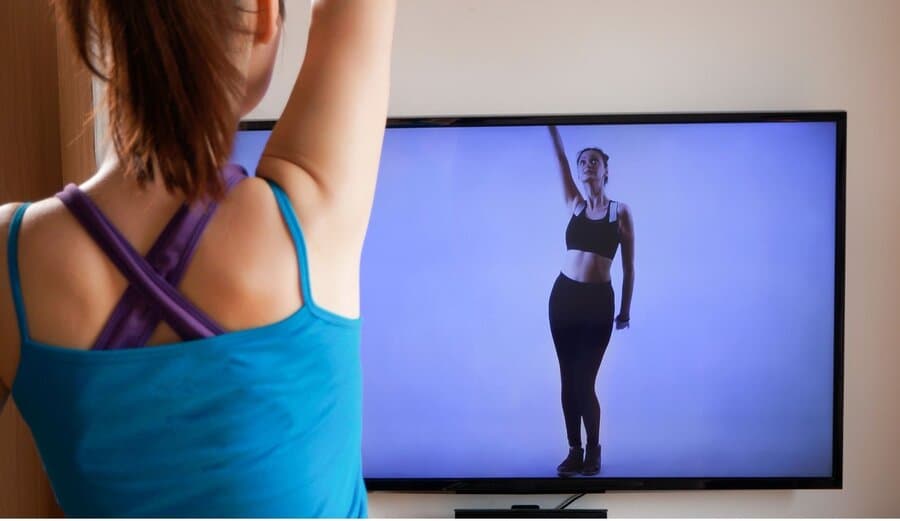 On-demand classes are recorded, hence easy to plan a schedule on exactly what you are looking for. Then, live classes give you a feeling of a physical gym with real-time competitors and instructors.
Peloton has always prided itself in quality live and on-demand classes. Though Beachbody only had on-demand classes, they currently feature live classes as well.
However, Peloton has only two subscription packages, and both the members get both the live and on-demand classes. Therefore, the members reap the benefits of a live class even when on budget.
On the other hand, Beachbody separates live and on-demand classes. Therefore, members have an opportunity just to have the on-demand classes without the live classes. On the contrary, to access the live classes, you must first subscribe to the on-demand classes. Therefore, you will pay the live classes cost on top of the on-demand classes subscription.
When it comes to quantity, Peloton also wins, as it already has over 10,000 on-demand classes. On top of that, all the daily live classes, which happen 24/7 and by over 50 instructors, are continuously added to the on-demand list.
Sadly, Beachbody on-demand workouts are only 1500, and they haven't yet given the green light as to whether the new BODi workouts will be recorded to add to the on-demand library.
2. Cost
Cost is always a major factor when it comes to selecting workouts. But better than this is that you want value for your money, even when the workouts are cheap.
So, Peloton has always been more expensive than Beachbody. Once you have a piece of Peloton equipment, you can subscribe to the all-access membership, which costs $44 every month. There are also no discounts or even the options for paying several months ahead. 
You only have access to the $12.99 digital app membership without the equipment, and the subscription is renewable monthly. Better still, it is easy to cancel or pause the Peloton membership at will. After all, even if you called it off days after renewal, you will only lose a month's worth, hence an advantage to you.
On the other hand, Beachbody is quite cheap, especially when you only count on the on-demand classes. They only cost $59.85 for three months, and the higher the duration, the better the discount. At one-year subscriptions, you will only pay $99.
However, if you have the live classes on Beachbody, the subscription will be very expensive, almost as expensive as Peloton. Actually, if cost is a major consideration, the Peloton digital app will be way cheaper, yet you will get both live and on-demand classes.
For starters, you need to have a BOD membership to access the live subscription. So, on top of the BOD subscription, you will pay $19.95 per month. The annual package will cost you $298 to access both BOD and BODi.
Nevertheless, the two platforms agree when it comes to military discounts. With Peloton, you get military discounts on the digital app and accessories when you purchase a piece of equipment. Beachbody has discount codes for military personnel and even delivers products to military addresses with APO and FPO accounts.
3. Workouts and Equipment
The Peloton came into the market with the Peloton bike and later added the Peloton tread, then the bike plus, and the tread plus. Therefore, it is obvious that Peloton has numerous options for cardio workouts revolving around the equipment they offer.
Other than the amazing cardio, you get strength workouts that are actually very serious. Then there are Bootcamp workouts, which combine strength and cardio. Finally, mental health classes revolve around yoga, meditation, and sleep improvement. Hence, it would be fair to conclude that Peloton is quite all-rounded. The only aspect it misses out on is the nutrition plan, which you can try to pick out during the workouts. The instructors constantly give recommendations.
Beachbody combines strength workouts with a nutrition plan, which makes the workouts more effective. There are also cardio options, but they are minimal. The new BODi classes should feature more running and cardio, but we are yet to confirm the competition against Peloton. Besides, the company just announced a partnership with MYX for the bikes to offer the users a fully interactive experience on BODi.
The fact that the Beachbody workouts incorporate a nutrition plan is a great plus for the platform. Besides, working out without checking on your dietary components could bounce on your results.
The nutrition plan can come up with structured workout plans, say, targeting weight loss. However, this structured plan is not in Peloton unless you join the challenges.
4. Community
Both platforms have attracted a good fan base, and though Peloton is far ahead, Beachbody still ranks.
The Peloton community interacts during workouts, given the availability of the Leaderboard. The Leaderboard is basically for competition reasons, but it goes ahead and builds a powerful interaction opportunity. For example, users utilize a feature for 'High Five' to congratulate and encourage each other. Even the instructors use it to greet users when they get into the classes and congratulate those who manage new milestones. And let's not forget the video chat option, which allows you to ride or run as you chat with your friend or relative. Trust me, 60 minutes fly by with these features in place.
Then, the users join Social media platforms and websites dedicated to Peloton, sharing achievements, experiences, and encouragements.
Since Beachbody only had on-demand classes, the interaction was only on social media pages dedicated to the platform. However, with the BODi incorporation, the company promises features that encourage more interactions.
The live classes will incorporate BODgroups, the Beachbody platform that helps you keep connected with your Beachbody community. In addition, you get to be consistent, as accountability is highly recommended in the group.
With the incorporation, you will get to see users who sign up for an upcoming class. Then, you can target the group of friends you want to join in a workout.
There is a feature known as BODcast, which allows you to view other users live as they work out with you. Other users and instructors will also give you a live shout-out, and you can do the same.
While the BODi workouts are really promising, Peloton still has the upper hand as it has already won users' trust in the features.
5. Workout Accessories
Beachbody sells workout accessories that rhyme with their workouts, including nutrition products. The downside to this feature is that the instructors always pitch the products during workouts until it seems like the workouts are about the products.
Peloton also sells accessories and products that are suitable for their workouts. However, rarely will you hear an instructor pitching these products during the workouts, making the workouts more favorable.
6. Music
Peloton may have been closed out of some contemporary music, but it still rocks in the variety it does. There is also variety, from old school to the most recent.
However, Beachbody only has music simple music that is boring to listen to over a long time. There is no variety, which adds to disinterest. Nevertheless, this was in the BOD workouts. BODi promises better workout music that is appealing to the Millenials and the seniors alike.
Peloton or Beachbody: Which is better?
Which one is better between Peloton and Beachbody; is the obvious question. Honestly, each is better than the other in its way. When looking for structured workouts that come with nutrition plans, Beachbody definitely wins. Also, Beachbody on-demand subscriptions are favorable when you start in the field and need an introduction without financial and emotional pressure.
However, if you are into more workout varieties where cardio and strength workouts are available, Peloton is the winner. Peloton is also the best option when you want instructors and a community always pushing you to do better if you don't want to lag.
Therefore, it will all depend on what you are looking for in the workouts.
Final Thoughts
Peloton vs. Beachbody brings out the similarities and differences between the two workouts platforms. Therefore, you can finally make an informed decision on the platform you want to create a home gym with. After all, you can switch from one to another during the first month of each, when, fortunately, both offer a free membership.
The best news is that you can actually incorporate the two platforms in your workouts. If you go for the Peloton app, you can also get Beachbody quarterly whenever you need less pressure due to work or family commitments.