Does Peloton have dance classes? Yes, Peloton has dance classes, which are under the cardio section. They are among the newest Peloton additions, and lately, they even added more exciting 'Usher Dance' classes.
Essentially, the cardio dance classes make you happy and take you from the all-serious high-intensity Peloton workouts. So naturally, they not only impact your physical health but your psychological and emotional health as well.
The best part is that the classes are so interesting that you will not want to miss them, regardless of being a poor dancer. So, let's get on to the temptingly appealing details;
Peloton Cardio Dance Season 2 (Usher is in the Classes!)
Why all the hype about Peloton cardio dance season 2? What is so outstanding about the classes? The simple answer is to feature Usher Raymond's choreographic moves and music.
Usher is a Peloton member, and he gave his best choreographer, Jamaica Craft, in the choreography training. He also made a Peloton appearance and taught Emma Lovewell and Ally Love some moves. In the video, he even acknowledges the two Peloton instructors as some of the best choreographers he has been with.
I specifically love the Usher class that Emma and Ally featured later on the on-demand section. All the music is from Usher's albums, including You Make Me Wanna, You Don't Have to Call, Good Kisser, and Caught Up. There are also other tracks from Usher, in which he features other great artists such as Ludacris, Pitbull, and Lil Jon.
The class is 20 minutes, with a difficulty level of 6.6 out of 10, so you can grace it with your appearance for a taste of season 2.
Who are Peloton Cardio Dance Instructors?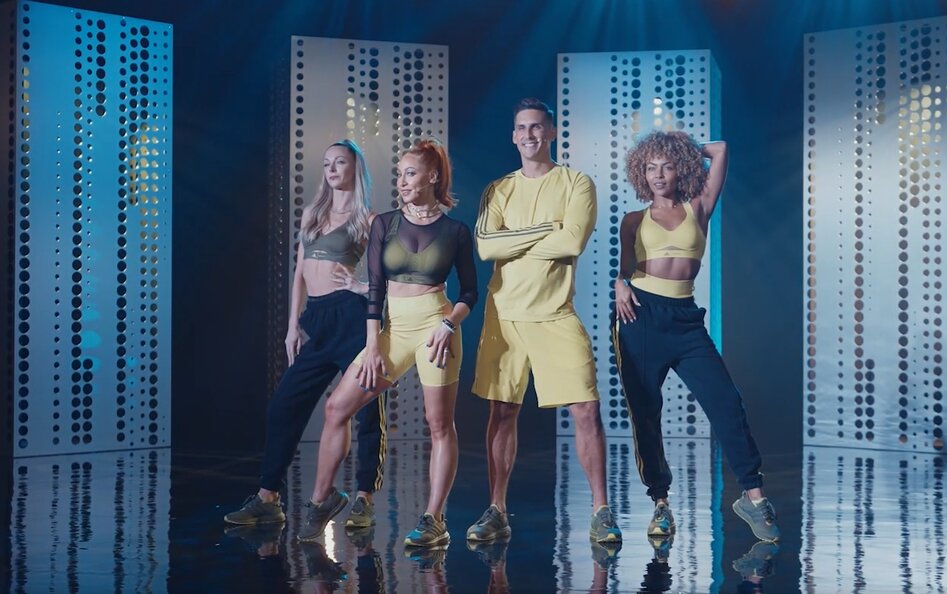 Peloton identified instructors with a background in dancing who would actually enjoy the dance classes. After all, you only enjoy a dance class if the coach wants it more.
Interestingly, Peloton seems to have instructors from all walks of life, bringing in an intriguing combination. Therefore, whenever there is a new class, there are always instructors who will comfortably fit into the workouts. In the case of dance workouts, there are former choreographers such as Emma Lovewell, Ally Love, and Cody Rigsby, who perfectly fit in these fun-exercise combo classes.
Other dancers who guide the classes include Jess King and Hannah Marie Corbin, and in the second season, Callie Gullickson also joined the crew.
Uniquely and unlike other Peloton classes, the dance cardio classes are guided by more than one instructor. There are duals, trios, and even quads, which make the classes even more fascinating. If you feel that Emma Lovewell is too first with the core curves, you could probably do better following Ally Love in the same, and vice versa.
Secondarily, multiple Peloton instructors in the same class bring multiple vibes to the class. I mean, each instructor seems to be endowed differently, and when the different endowments come together, you definitely get a blast out of it all.
How Many Peloton Dance Classes are Available?
The dance classes seem to increase at a significant rate. They are split among beginner, intermediate, and advanced difficulty levels.
How long are the dance classes? As with most Peloton classes, the dance classes vary in length. There are 5-minute warm-up and cool-down classes, intermediate 10-minute classes, and the longest is 20 minutes.
Are there live dance classes on Peloton? Currently, the Peloton dance classes are on-demand. The Peloton will mostly put the new classes on the on-demand section, watching the classes' traffic.
The dance classes seem to interest people even more, probably given the contrast. They are on Peloton, which kicks your ass with exercises, and they are dance classes, which should be more fun.
Can I Get Peloton Dance Classes on the Digital App?
Yes, you can. The Peloton dance classes are available on both the unlimited subscription and the digital app.
Therefore, if you are into dance and probably want nothing more from Peloton, you can use the Peloton app. And, who knows, you may end up engaging in other high-intensity workouts. Remember that dance is all about moves and flexibility, which stems from a flexible body. Working out, especially in HIIT and interval training, is among the top in facilitating body flexibility.
Finally, the digital app is inexpensive. At only $12.99, you will stream the dance classes and more from Peloton for a whole month. And if you have a dance crew, the Peloton app is available on Roku, Fire, Android, and Apple TVs. Therefore, you can download the app for group training.
And with Peloton currently streaming moves from a choreography legend, Usher Raymond, you have more to gain with the subscription.
Are Peloton Dance Classes Good for Recovery?
Yes, they are. Peloton dance classes are low-intensity, and the moves, especially beginner classes, are not as demanding. Therefore, if you are up for an active recovery class, they are an excellent choice.
Which Peloton Instructors were Dancing with the Stars Contestants?
Cody Rigsby and Emma Lovewell are well-known for participating in the Dancing with the Stars television series. So it is no wonder they are among the cardio dance classes.
Actually, if you eye the contest or any other dancing contest, wouldn't you learn a lot from these two? So maybe joining the Peloton dance classes is not a bad idea after all.
Benefits of Peloton Dance Classes
What do you gain from Peloton dance classes? Let's look at the 5 primary advantages;
You get an improved balance between body fat and muscles. The classes are low-intensity yet involve the whole body. They also lie between cardio and many aspects, hence comprehensive workout benefits.
Great for mood enhancement: whenever you feel sad, stressed, or just not in the mood, dance classes will always bring a smile to your face. If not by the way you make the moves with a sad face, then the words from Peloton instructors, who are constantly laughing, talking, and making jokes in a class.
Learning dance moves: some of us are not confident in parties simply because we cannot pull a single dance move without causing pearls of laughter from the attendees. However, if you are constantly in the Peloton dance classes, you will definitely learn some cool moves. The best part about the classes is that you are all alone in the house so that no one will laugh at your lame moves at the start. And if you set a mirror in front of you, you will improve your moves within no time. After all, they are not as difficult when they are intertwined with exercise moves such as squats.
Recovery: Dance is an excellent form of recovery, given that it is low-intensity. It keeps your blood pumping without negatively impacting your injury. Besides, the low-intensity moves are great for ensuring that your injured area is not dormant and aching when you are finally ready to be back on track.
It is a cardio fitness workout: dancing is a cardio workout, keeping you fit. If you don't like exercising but fancy dancing, this class will help you hit two birds with a stone. First, you will get the dance and keep a healthy body.
So, are Peloton Dance Classes Worth It?
Yes, Peloton dance classes are worth it. Technically, you don't need a Peloton bike or treadmill to join the Peloton dance classes. They are available on the app, only $12.99 per month with no upfront costs.
Moreover, consistently joining Peloton dance cardio classes keeps you fit, a cardio workout. So while you may not shed many calories, you shed a significant amount to keep you in shape.
Finally, the classes are mood enhancers. There is no way you will be in the class for more than two minutes without a smile, if not a laugh. After all, two or more instructors in each class make the class more enjoyable.
Wrapping Up
Peloton has a section dedicated to dance classes, under the peloton cardio workouts on the on-demand section. The classes are short, with a maximum of 20 minutes so that you can incorporate them into your other activities.
The classes can act as a recovery class, a stretch option, or a psychological therapy class. So, regardless of your need for the classes, they give more than you ask!
Read Also: