Before coming to the limelight, Kristin McGee, a celebrity yoga instructor at Peloton, worked as a Pilates and yoga teacher at a gym. While growing up, Kristin wanted to be a dancer and an actor. But things somehow changed while at the New York University Tisch School of the arts, where she learned yoga. She later graduated with BFA and also became a certified yoga instructor.
MTV later discovered Kristin, and she featured in yoga video series with Lori Trespicio from the Real World. She also starred in another video with Bethenny Frankel. The yoga enthusiasts believe a few minutes of yoga a day can bring more balance and harmony to your life. The Mompreneur and author have trained celebrities and appeared in several shows like Good Morning America, live with Kelly and Ryan, and Vogue.
Kristin Mcgee: Hometown, Height, Weight, Net Worth, Profession, Birthday, Instagram, Biography, and More
| | |
| --- | --- |
| Full Name/ Real Name | Kristin McGee |
| Birthplace/ Home Town | Born in Idaho, united states |
| Age | 48 years |
| Birthday | August 31, 1973 |
| Birth Sign | Virgo |
| Height | 5 feet 5 inches |
| Weight | 49 kgs |
| Shoes | N/A |
| Diet/Eating Habit/ Favorite Foods | N/A |
| Role Models/ Favorite People | Mom, Steve martin, and Ayn Rand |
| Likes | Being a mom, cooking, writing, yoga, theater, music, dance, hiking, ski, camping, and Pilates |
| Favorite Destinations | Sun Valley Idaho, Positano, and Amalfi coast |
| Favorite Dish/Food | Pizza and noodles |
| Favorite Products | Aura Cacia essential oils, hatch maternity yoga tanks toe sox, leg warmers |
| Ethnicity | American |
| Education (School/College/University | New York University Tisch School of the arts |
| Marital Status | Married to Timothy O'Shea (recently filed for a divorce from the spouse) |
| Children/ Baby | 3 sons |
| Current Profession | Peloton instructor |
| Previous Profession | Pilate's instructor, ACE personal trainer, actor, yoga instructor, author |
| Notable Books | Chair Yoga, Sit Stretch, Strengthen Your Way to A Happier, Healthier You |
| Social Media | Instagram, Twitter, Facebook, YouTube |
| Net Worth | $5 million in 2020 |
| Disease Diagnosed | Anorexia (while in her 20's) |
| Website | https://kristinmcgee.com/ |
Kristin McGee Early Life
Kristin McGee was born and raised in Idaho. While growing up, she had dreams of becoming a dancer or actor, but as fate had it, she ended up as a Peloton yoga instructor. At four years, Kristin performs ballet, jazz, and tap. She says her family is full of entertainers. Her parents met as lead players in 'Little Mary Sunshine' at Idaho state university before eloping. Kristin's parents were blessed with three children, two boys, and a girl.
She notes that her dad loved singing and playing the piano. He got the support of her mom, who encouraged him to start a singing group called K.C and the sunshine kids. This motivated Kristin, who dreamed of moving from her Pocatello, Idaho, to the Big Apple to be a Broadway star.
Kristin McGee Family and Relationship
The 48 years old doesn't reveal much information about her parents or siblings. But she has three sons; Timothy, Robert, and William. Currently, it's not known whether Kristin is dating after filing for a divorce from her then-husband, Timothy O'Shea.
Kristin McGee Journey to Becoming a Yoga Instructor
Kristin discovered Pilates in the 90's while at the New York University theater program. They used to incorporate Pilates and yoga during warm-up sessions in the theater. After graduating from the university, her parents gifted her with a gym membership, and she gravitated towards the yoga and Pilates class. In her first class, Kristin realized she had come home since she got the movement and connection shed been looking for.
She did a headstand and realized that she must have practiced yoga in her past life. Kristin from then knew that was her calling as she felt drawn to the practice. When her teacher announced, she was holding a yoga certification Kristin immediately signed up for it despite her first yoga class. She got accreditation in 1997 and immediately began teaching yoga at the same gym.
During her time at the gym, she could be requested to substitute-teach Pilates classes because they had few teachers. That made her go to Kane school of core integration and got certified in Pilates with Kelly Kane. Kristin says that although there are similarities between yoga and Pilates, the two are different disciplines.
Turning Point in Kristin McGee Career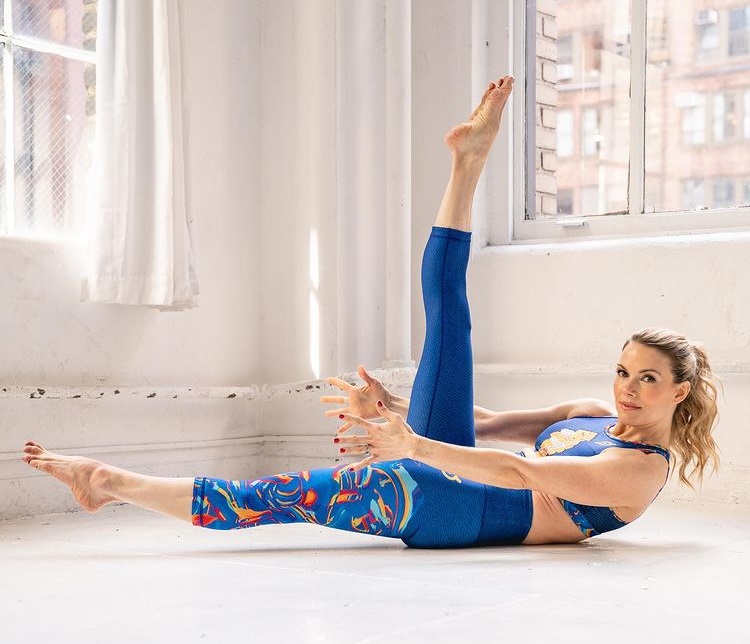 Kristin got a career boost one day while she was in times square teaching yoga. A producer from MTV was part of her class, and at the end of the session, she approached Kristin. She wanted to know if Kristin had headshots. At that time, Kristin was still actively involved in her acting career and was ready and prepared for anything. After her talks with the MTV producer, she was cast as the host, choreographer, and star in the first MTV yoga video.
Surprisingly the DVD was a success, and in the following year, they produced MTV Pilates and MTV power yoga which was filmed in Arizona. After one year, they did MTV Pilates mix. Kristin believes MTV helped her market herself, which allowed her to work with several celebrities. She worked with celebrities like Steve Martin, Tina Fey, Leann Rimes, Savannah Guthrie, Emilia Clarke, and Jenifer Lawrence. She also got the opportunity to appear on the cover of the 'Pilate's style' magazine three times and become an expert on HSN for Pilates power gym for seven years.
However, her memorable moment was in 2010 where she had the opportunity to play 'Kaitlin the yogaerobics instructor' on season 4 of 30 rock opposite Jason Sudeikis. This is because she got to incorporate both acting, yoga, and Pilates, which are her passion.
Kristin McGee as A Yoga Instructor at Peloton
After achieving a career milestone while at MTV, another good news was waiting for Kristin, a girl from Pocatello, Idaho. She got a contract with Peloton in 2018, something she's grateful for. She says the magic of working out together while connecting to ourselves and others is a true gift. Kristin adds that connecting to our core is not just a physical process, but it helps us feel more connected to our core values, instincts, and true self. It also helps to reinforce our relationships to a powerhouse that provide us the strength to do everything in life.
Kristin is currently balancing her life as a mom, entrepreneur, author, and yoga instructor at Peloton to ensure everything goes well. She spares enough time for her boys daily to ensure they grow to be the most caring human beings on earth. She helped on the pioneering peloton yoga program and is currently working with them.
Kristin McGee Workout Sessions at Peloton
Every week Kristin has a daily schedule at Peloton, which involves teaching yoga and Pilates. She does 4 yoga sessions, 2 -4 Pilates routines, 1-2 upper body strength workouts, and 2 lower body strength workouts per week. She also includes cardio exercises during the week to be on top of the game and make her classes the best. But she maintains that she sticks to the weekly routine to maintain her lifestyle. Her sessions take between 20 and 45 minutes.
Kristin McGee Training Style
Kristin likes making yoga accessible and fun. She does this by finding a good flow, playing a great soundtrack, and sneaking in alignment cues while keeping the pace moving. She believes a down-dog a day keeps the doctor away.
She motivates her members by keeping a smile on her face. To keep them feeling good about themselves and body, she involves movements and challenging poses. She says she aims to help everyone discover how much more they can accomplish in everything they do.