If you are thinking of an online platform for indoor cycling and running, two main options will likely pop; Peloton and Zwift. Even more, we cannot deny the fact that the two platforms are excellent for cycling training. And honestly, both platforms are so competitive and popular that making a choice may be quite a task.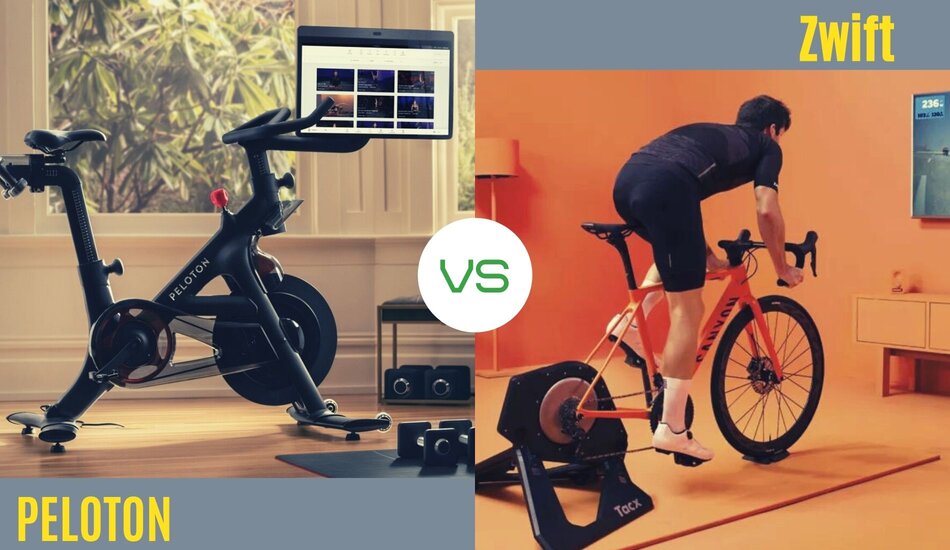 Surprisingly, the two platforms are so different that decision-making may be easier based on what you want to do. For example, Zwift may be indoor, but it offers an outdoor cycling and running feel. On the other hand, Peloton is purely indoor for the majority of the workouts. And there's more to determine which between Peloton and Zwift is the better option.
A Summary Table of Peloton Vs. Zwift
| | | |
| --- | --- | --- |
| Features | Peloton | Zwift |
| Equipment | Fitness bike, treadmill | Outdoor bike, trainer, treadmill |
| Membership | Digital app membership, all-access membership | Digital app membership |
| New member discount | available | available |
| Cost of membership per month | Digital app: $12.99 All-access membership: $39 | $14.99 |
| Workouts | Tread running and walking, strength, yoga, meditation, outdoor, cardio, cycling, bike Bootcamp, and tread Bootcamp | Running, cycling |
| Main workout environment | indoor | outdoor |
| Live classes | available | Not available |
| Recorded classes | available | available |
| Instructor availability | Yes (avatar) | Yes (real person) |
| Instructor audible | yes | no |
| Able to view other users | yes | yes |
| music | available | Not available |
| challenges | available | available |
| Interaction with fellow users | available | available |
| Competitive nature | yes | yes |

Basic Structure of Peloton Classes
Peloton classes can be live or on-demand, and live instructors lead them. The instructors are usually in the studio, and the class setting is that of an actual physical spinning studio.
The instructor will give directions when you need to increase resistance, cadence, or even take a break.
Furthermore, there are classes available for the three levels of users: beginner, intermediate, and advanced. Depending on one's preference, the classes are further structured in different time lengths, from five to seventy-five minutes.
There are multiple instructors, currently more than seventy, guiding the different workouts. You can choose your class based on the instructor, given their different personalities and impacts.
Basic Structure of Zwift Classes
Basically, Zwift has the structure of a game. It represents you with an avatar character, which moves according to your moves on the bike or treadmill. You can also control the outlook and direction that the avatar takes.
All other users in the class are avatars, and you can see and compete with them. There is even an option to choose a racing class with more people, and you will see how your range is against your competitors.
No one talks to you during the class, it is pre-recorded, and your moves depend on what you see. However, if you have a good trainer compatible with Zwift, it can decide when you need climbs, drops, and increased resistance.
Peloton Vs. Zwift: What are the Differences
1. Equipment
Basically, the equipment required for either of the platforms is the main difference between the two platforms. And this is primarily in the cycling workouts.
Essentially, you will need an indoor fitness bike in Peloton cycling classes. While you can use any indoor bike with the digital membership, Peloton offers an option to use a Peloton brand bike. In addition, the bike has more options, not on the digital app, such as scenic rides. Besides that, the Peloton bike users have an opportunity to register to an all-access membership, which opens up the possibility of multiple accounts on the same bike.
Peloton has two Peloton bike options, the standard Peloton bike, and the Peloton bike plus. With the Peloton standard bike, you will reap all the benefits of Peloton cycling at a cheaper cost. However, if you can afford the bike plus, well, you will be in a bit of Peloton heaven.
Moreover, the Peloton bikes come with touchscreens, with the Pelton app built. However, if you have a regular indoor bike for Peloton, you will need to purchase a tablet for the workouts. Alternatively, you can use your phone, TV, or computer for the same.
On the contrary, Zwift uses a regular outdoor bike! So whether you have a road bike, a hybrid, or a mountain bike, you already have an accomplishment with Zwift. All you need is a trainer and a screen where you can stream the training.
The Zwift trainer converts your outdoor bike into a stationary indoor bike. If you are lucky to get a high-end trainer, you will even get resistance and cadence reading that allows you to feel the hills and valleys of the workout environment.
2. Workout Environment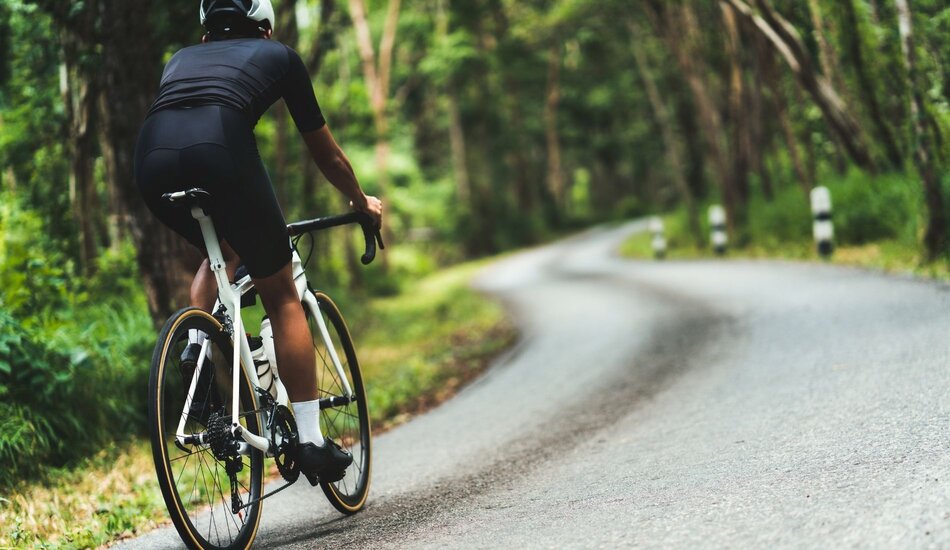 A professional cyclist knows that different environments create better cycling motivation if you are an experienced cyclist. So you get both cycling training and an adventure as well. And this is what you get with Zwift.
Essentially, there are four routes in Zwift that you can opt for and each route with varying options. First, there is Watopia, which crosses through the South Pacific paradise. This option has eight routes that you can venture in. Then there is the Richmond 2015 UCI World Road Race course, which has four routes. Again, this option is virtual and with dreamy route options.
There is also an option to ride through London and its 2016 Prudential Ride London courses. Here, you can either ride through the beautiful scenery of the countryside or tour the iconic London landmarks.
Technically, on Zwift, you are represented by an Avatar. You can decide your outlook, and it will move at your pace. You can make a u-turn and go back, turn right or left, and the avatar moves per your wish. It is more of a ride in a game!
On the other hand, Peloton is technically an indoor workout, and the environment is indoor. Of course, there is an outdoor workout option, but it is audio. The scenic rides are also few, limited to the Peloton bike owners.
So, Peloton instructors live-in studios, and even the on-demand classes show that the class setting is in a studio. Therefore, you get an indoor training feel, more of a gym or studio feeling.
Therefore, if you are for adventure and a virtual breeze, Zwift wins. On the other hand, if you are into a studio feel that reminds you of the physical cycling studios, Peloton is a perfect choice.
3. Apps
Both Zwift and Peloton have digital apps to stream the classes. The apps are compatible with smart TVs, smartphones, tablets, iPhones, and iPads.
With the digital apps, you can customize your workout equipment. You buy your bike and bike accessories that will match up to your budget and performance convenience. They display the cadence, heart rate, distance, time, and resistance during the workout. Besides that, the metrics are saved in your account for future reference.
Nevertheless, note that you can only have one account using the Zwift or Peloton digital app. Thus, if another household member wants to utilize the workouts, they will have to pay for another subscription.
However, Peloton has more than just a digital app. It has an all-access membership for Peloton equipment owners, suitable for multiple household and family accounts.
Therefore, if multiple accounts work for you best, Peloton is the better option.
Read Also: Peloton Digital App Review: All You Need to Know
4. Live and On-demand Classes
With the online workout platforms, there are live and on-demand class options. The live classes offer live interaction with the instructor and the class, while the on-demand classes are recorded.
In this case, Peloton has both options. First, there are live classes, where you get a personal shout-out and high-five from the instructor in the class. The jokes and comments in the class are also real-time. For instance, there will be more references to the Christmas celebrations if it is around Christmas. Then there are the on-demand class options. The classes could be former live classes or prepared specifically for the on-demand class option.
However, Zwift classes are prepared and recorded before the class, which means that all the classes are on-demand.
The best part about on-demand classes is that they work around your schedule and not the other way round. You choose classes you want to take during any time of the day. Therefore, with both Peloton and Zwift, you can get an on-demand class 24/7.
Nevertheless, if you love the warmth of a live class, Peloton will have your back.
5. Community Interaction and Competition
Now, both platforms offer the warmth of a community and the productivity that comes with competition. Once you get into either platform, you will see a list of the people you are riding against on your right side. On Peloton, this is referred to as the Leaderboard.
On Peloton, you can give a high-five to the people on the Leaderboard. In addition, if you have a Peloton tread or bike, you can video chat with friends and users on the Leaderboard.
On Zwift, you can chat with people on the Leaderboard and respond to messages. You can also get a thumbs-up, which acts as the high-five feature on Peloton.
More interestingly, social media pages and platforms are dedicated to either Peloton or Zwift. Here, people share experiences on the platform, give comments and recommendations, and encourage and offer free advice to new users.
6. Instructor Interaction
Interestingly, there will not be a talking instructor on Zwift. Instead, there is just an instructor avatar, whose lead you will follow silently. And, occasionally, you will not even see them, especially when you decide to take on personal routes.
Contrary to this, Peloton is actually popular due to its instructors. They will guide you all the way, and they are so talkative that it is difficult to miss a step. They also work out with you, sweat with you, and reflect the human aspect of every move. Users also get an opportunity to interact with the users. The instructors join the class with a high-five during a live class to be the better part of the class. When you are in recovery, the instructor will go through the Leaderboard and give shout-outs to improving members, members with major milestones in life and on Peloton, and so forth.
7. Cost
Since the Peloton digital app compares to the Zwift digital app, let's make a comparison between the two. Currently, the Peloton digital app costs $12.99, while the Zwift digital app costs $14.99. Better still, both platforms offer a new user free subscription for the first month. After that, the cost is almost the same, so that you can move on to the next consideration.
On Peloton, you have the option to buy a Peloton bike and pay for an all-access membership, which costs $39. You can have up to 20 accounts on the app at the cost.
The Peloton standard bike costs $1400, while the bike plus costs $2400.
With Zwift, if you need an optimal experience, you will need a trainer such as the Garmin Tacx Neo 2T Smart Trainer, which is compatible with Zwift. A nice trainer will cost a little over $1000, but remember that you need a bike. For example, consider this Tommaso Imola Endurance Aluminum Road Bike, almost $1000 for an uncompromised experience. Then a tablet for streaming the classes, and you will end up buying the high-end Peloton bike plus.
If you choose the low-end option for Zwift, you will most likely end up with the standard Peloton bike cost.
Therefore, the two platforms have negligible cost differences.
8. Music
Almost all of us love to work out with some commendable, relatable music playing in the background. And Peloton brings this to you, with several tracks playing in a class to bring in the mood you need. You can even choose a Peloton class based on the music you want to listen to!
However, Zwift is not so great with music, hence loses to Peloton. However, you can customize your playlist into the workout to make it work for you.
So, Zwift or Peloton?
Usually, this is the most challenging decision you make, especially when huge investments are involved. However, I always advise that you start with the app before investing in the equipment.
Fortunately, both Zwift and Peloton have a free subscription for the new digital app users for a whole month. Therefore, take advantage of the 30 days to decide whether this is something you want to invest in.
If you are torn between Peloton and Zwift, you can download the apps concurrently and see how they fare against each other.
That being said, each platform is better than the other in its way. Thus, it will depend on what you want more. However, if you are a triathlete, cyclist, or athlete looking for an environment resembling your outdoor training grounds, Zwift is an amazing option.
On the other hand, if you are into a spinning studio or looking for a gym experience, Peloton is better. After all, it has more training options than just running and cycling, hence a wholesome experience.
Parting Shot
So, Peloton Vs. Zwift? The final choice will depend on your better preference. Zwift is the best for people who are into video games, as it turns your passion into fitness. On the other hand, Peloton is great for versatile training options and a studio or gym workout feeling.