No words can express the joy of achievement whenever you add a new peloton accessory to your studio. And the heart rate monitor is not just any other accessory but an important necessity that guides your health and fitness workout levels. The peloton heart rate monitor is one of the best shots at a heart rate monitor compatible with Peloton.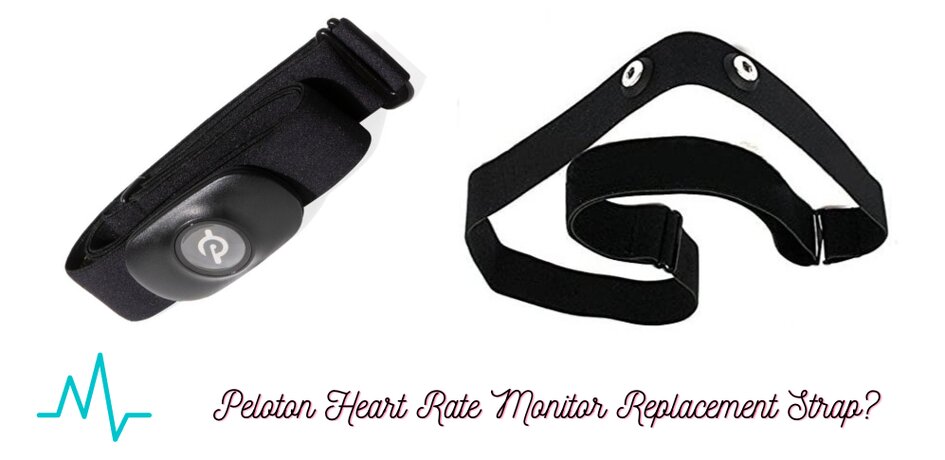 Sadly, just as with other straps, the heart rate monitor chest band has a short lifespan. Others don't find it comfortable, especially with the fit. For this reason or the other, you will need a strap replacement.
Why Replace the Peloton Heart Rate Monitor?
While the peloton heart rate monitor is in the standard size for most people, not everyone finds it suitable. It may be too loose or too tight, depending on individuals.
Thus, if the peloton heart rate monitor chest strap does not fit you, you don't have to buy a new heart rate monitor. Just a compatible strap is enough.
Whenever you use the heart rate monitor, you need to run it in tap water to keep it clean. Occasionally, you will have to add detergent to clean it thoroughly.
After long use and clean processes, the heart rate monitor strap may become uncomfortable and rough. In this case, you will have to budget for a replacement strap.
Sometimes you just want an extra strap to add to the lifespan of your peloton heart rate strap. If you are not using it all the time, it will last longer. Besides, you may only want to deal with purchases once in a long time.
Finally, if you don't wash the strap for some time, the elasticity reduces, and the strap goes loose on your chest.
Which Peloton Heart Rate Monitor Replacement Straps to Consider?
Fortunately, Peloton is compatible with a spectrum of heart rate monitor straps in the market. While Peloton itself does not provide the replacement straps, the competitive market surely does.
However, you have to take a few things into account;
First, you have to ensure that the heart rate monitor strap you consider is ANT + and Bluetooth compatible. This way, it will fit the peloton heart rate monitor as though it were the original strap.
Most heart rate monitor straps have the same band length, so you will have to check that the length is suitable for you. I mean, if the peloton strap is too loose for you, get a strap that fits you snugly.
Third, always go for a heart rate monitor strap that is quality. Imagine fitting your 49-dollar heart rate monitor to a cheap-looking heart rate strap that might snap any moment.
Procedure:
Step 1: Remove the Original Strap
First off, ensure that you remove the original peloton strap from the pod. It is simple, as you just have to pull the pod from the strap by the two hooks attaching them. You don't have to use much force as it is easy.
Step 2: Attach the New Replacement Strap
The replacement strap should have two points of attachment lying between the electrode area. Attach the pod to the two points, with the part with the Peloton logo and name facing you.
Now you are ready to use your peloton heart rate monitor with the new strap. Luckily for you, nothing much changes, except that the new strap will enhance the speed of connection and accuracy. This is more so if the previous strap was way worn out.
3 Best Heart Rate Monitor Replacement Straps
Have you already decided to replace your peloton heart rate monitor strap? Here are a few top rating suggestions that you should look into.
1. Onlydroid Adjustable Chest Strap
Best overall, this heart rate monitor strap is compatible with most heart rate monitors, the Peloton HRM included. Amazingly, it will recognize your peloton touch screen at all times after the first connection. Therefore, you only have to go through the connecting process once.
More importantly, the heart rate monitor strap is Bluetooth 4.0 and 5.3k compatible, not to mention excellent ANT+ connectivity.
You will fall in love with this more; the strap features an adjustable sizing, which ranges between 23.6 and 47.2 inches. Hence, more chest sizes are catered for in length. The space between the two snap buttons is 45mm, sufficient for the peloton HRM pod.
Then there is the soft fabric, which is basically nylon and spandex, 80 percent and 20 percent, respectively. The material blend enhances a soft and comfortable fit that keeps you forgetting that you were wearing the strap.
2. Xu Xin Heart Rate Monitor Strap
Do you feel that your chest size is still larger than most heart rate monitor straps? Try this strap from Xuxin, which fits sizes between 39.3 and 51.1 to include even weider chests. And as for the space between the snap buttons, it remains 45mm, just as the peloton heart rate monitor needs it.
Essentially, the heart rate monitor strap is compatible with most common heart rate monitors, including Peloton, Garmin, and Polar.
Moreover, the chest strap, made in nylon and spandex, is easy to clean. You only have to remove the pod and handwash it in clean, warm water.
Over and above that, the material composite allows you to have a grand time in the strap, soft and friendly to the human skin. The adaptive electrodes, which are highly sensitive, get accurate heart electrical signals to aid your peloton workouts.
3. LIVLOV V3 Heart Rate Monitor Strap
The heart rate monitor strap features high comfort levels, given its silicone and fiber hybrid material. The material is further soft and non-chafing, ensuring long-term comfort to the user. Moreover, you can hand wash it whenever you use it or as you wish, as the material is wash-friendly.
Basically, the strap is compatible with most heart rate monitors, including Peloton, Garmin, Polar, Coospo, and Mo-Fit. It connects via Bluetooth, ANT+, and 5.3Hz, and the ease and speed of connection are amazing.
Suitable for standard chest sizes, the heart rate monitor strap adjusts for chests between 25 and 37 inches. It can also stretch up to 65 inches to accommodate large chest sizes. Besides, the spacing between the snap buttons is 45mm, just as your pod needs it.
Related Posts: